Jean-Baptiste Chardon
Jesuit; Indian missionary in Canada, and in the Louisiana territory (1672-1743)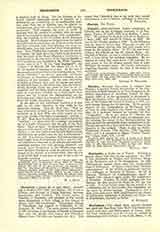 Click to enlarge
Chardon, JEAN-BAPTISTE, Indian missionary in Canada, and in the Louisiana territory, b. at Bordeaux, France, April 27, 1672; d. at Quebec, April 11, 1743. He entered the Society of Jesus at Bordeaux, September 7, 1687, and arrived in Canada in 1699. He was on the Ottawa mission in 1700. In the following year he went to Green Bay, Wisconsin, to aid the venerable Henri Nouvel, who had been nearly forty years on the mission there. In 1711 he was evangelizing the Illinois on the St. Joseph River. According to Marest, he was a missionary full of zeal, with a rare talent for learning languages. He remained at Green Bay until about 1728, and was the only priest on the old mission ground west of Lake Michigan for several years. No further information regarding Chardon, except the date of his death, is available.
EDWARD P. SPILLANE
---
Enjoying this content?
Please support our mission!
Donate