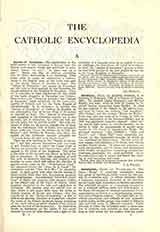 Click to enlarge
Assmayer, IGNAZ, an Austrian musician, b. at Salzburg, February 11, 1790; d. in Vienna, August 31, 1862. He studied under Brunmayr and Michael Haydn, and later, when he went to Vienna, he received further instruction from Eybler. In 1808 he was organist at St. Peter's in his native town, and here he wrote his oratorio "Die Siindfluth" (The Deluge) and his cantata "Worte der Weihe". Some time after his removal to Vienna, in 1815, he became choirmaster at the Schotten-Kirche, and in 1825 was appointed imperial organist. After having served eight years as vice-choirmaster, he received in 1846 the appointment of second choirmaster to the Court, as successor to Weigl. His principal oratorios, "Das Geliibde", "Saul and David", and "Sauls Tod", were repeatedly performed by the Tonkiinstler-Sociekit, of which he was conductor for fifteen years. He also wrote fifteen masses, two requiems, a Te Deum, and various smaller church pieces. Of these two oratorios, one mass, the requiems, and Te Deum, and furthermore sixty secular compositions, comprising symphonies, overtures, pastorales, etc., were published. As to his style Grove calls it correct and fluent, but wanting in both invention and force.
---
Enjoying this content?
Please support our mission!
Donate