Guillaume Dupuytren
French anatomist and surgeon, b. October 6, 1777, d. February 8, 1835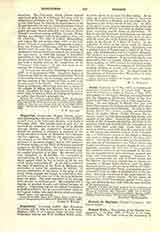 Click to enlarge
Dupuytren, GUILLAUME, BARON, French anatomist and surgeon, b. October 6, 1777, at Pierre-Buffière, a small town in the Limousin, France; d. in Paris, February 8, 1835. His parents were so poor that he received his education at the College de la Marche through charity. By competitive examination he gained the position of prosector in anatomy at the newly established Ecole de Médecine, Paris, when he was but eighteen. In 1803 he was appointed assistant surgeon to the Hôtel-Dieu. In 1811 he became professor of operative surgery, and in 1815 professor of clinical surgery at the Ecole de Medecine and head surgeon to the Hôtel-Dieu. He was indefatigable in his devotion to his profession and had one of the largest surgical practices of all time. He amassed a fortune estimated at $1,500,000. He succeeded in accomplishing all this in spite of a consumptive tendency against which he had to battle all his life and which finally carried him off. In his will he endowed the chair of anatomy at the Ecole de Médecine and established a home for physicians in distress. A curious contraction of the fascia of the palm of the hand, which cripples the fingers, is called after him, and the anatomical museum of the Ecole de Médecine bears his name. The most important of his writings is his treatise on artificial anus. He published also a treatise on gunshot wounds and clinical lectures on surgery. Dupuytren was not an original investigator in surgical subjects, but he was an excellent observer and a great worker, who knew how to adopt and adapt others' ideas very practically.
JAMES J. WALSH
---
Enjoying this content?
Please support our mission!
Donate