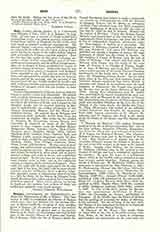 Click to enlarge
Reni, Gumo, Italian painter, b. at Calvenzano near Bologna, November 4, 1575; d. at Bologna, August 18 1642. At one time a memoir of Guido would have exalted him to the very highest position, especially if it had been written in England, for his works were very much in demand among art connoisseurs. His pictures fetched vast sums, and were held in the highest esteem by the collectors who knew nothing of and cared less for the works of the earlier Italian painters such as Gentile da Fabriano and Fra Angelico. Now for the time the works of this great craftsman are under a cloud, and his extraordinary powers of composition and conception, and his skill of draughtsman ship, are in danger of being overlooked by reason of an entire change of fashion. In his early days he was a colorist of great purity, a composer with dramatic force, regarded as one of the greatest masters of his time, and surrounded by pupils; but later on, his very success proved his undoing, and the pictures of his maturity and old age, though marked by facility and skill, evidence a certain monotonous melodrama and a thinness of impasto which has not tended to their permanency.
He was educated first by Calvaert, later on with the Carracci, and for a while with Ferrantini. He worked with Annibale Carracci in Rome, assisted in the decoration of the Farnese Palace, the Quirinal Palace, several of the churches of Rome, and a chapel for the Borghese family, but his greatest painting in that city is undoubtedly the ceiling decoration of the Palazzo Rospigliosi—Phcebus and the Hours preceded by Aurora. He painted also in Bologna, and commenced what probably would have been his masterpiece in Naples. His works can be studied in Dresden, St. Petersburg, Genoa, Vienna, and especially in England, as many of the famous houses of that country, such as Stafford House, Bridgwater House, Lowther Castle, Blair Castle, Kingston Lacy, Burghley House, Alton Towers, Charlton Park, Cobham Park, Narford Hall, and Windsor Castle, contain important works by him, while in Italy we find his paintings in Lucca, Milan, Modena, Padua, Pisa, Perugia, Ravenna, Siena, Turin, Venice, and elsewhere. He was a man of great energy, but unfortunately of considerable self-conceit, and of prodigious activity. He was a skillful engraver and etcher; he worked in silver point and in pastel, painted ceilings and walls in fresco, and numberless panel pictures. In his own time he was perhaps the most popular artist in Italy, and in the eighteenth century occupied a similar position in England. Presently his work will be more appreciated for its own sake than it has been, his faults will be more clearly noticed, and his excellencies have a greater value. Our principal source of information respecting him is a MS. by Oretti in the library in Bologna, from which all authors have taken material, but it has never itself been printed. There are at present two books in hand on this painter, but neither of them are sufficiently complete to be worth quoting.
GEORGE CHARLES WILLIAMSON
---
Enjoying this content?
Please support our mission!
Donate