Giovanni Benedetto Castiglione
Painter and etcher, b. at Genoa, Italy, 1616; d. at Mantua, 1670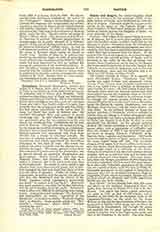 Click to enlarge
Castiglione, GIOVANNI BENEDETTO, painter and etcher, b. at Genoa, Italy, 1616; d. at Mantua, 1670. In Italy he was known as Il Grechetto from his beautiful coloring, and in France as Il Benedetto. Some authorities make him a pupil of Paggi and Andrea de' Ferrari, and others of Van Dyck. But as Van Dyck left Genoa when Castiglione was nine years old, and since Genoa was rich in Van Dyck's works, it is more than probable that the young man never saw Van Dyck, but had ample opportunity, in his native city, to study his works and those of Rubens also. He travelled throughout Italy and painted in nearly every large city. In 1654 Charles II, Duke of Mantua, generously gave him an apartment in his own palace and pensioned him. Castiglione did his best work in Mantua. His specialty was animal painting, but he enjoys an excellent reputation as a landscape, historical, and portrait painter. He frequently chose Biblical subjects, but, apparently only when these afforded him a chance to introduce animals. He was fond of painting kermesses, village, market, and rural scenes, and closely approached the marvellous Dutchmen in this kind of work. His touch was spirited, his color beautiful and the chiaroscuro excellently managed. His many pastoral scenes show him possessed of a keen sense of the picturesque, and he proved himself an admirable draughtsman and figure-painter. Orders poured in upon him from England, France, and Germany. His rank as a master is, however, due to his point-work more than to his brush-work. He etched in a free, spirited, and effective style more than seventy plates, and so skillfully managed the light and shade that many of them have the effect of aquatint. Unlike his Italian contemporaries, he seldom used the graver, but relied on pure line, like Rembrandt and the etchers of the North. Lipmann thinks Castiglione's needle-work was based "on contact with Van Dyck". Benedetto had many imitators, especially his brother Salvatore and his son Francesco, both his pupils. Salvatore's work is often very difficult to distinguish from Castiglione's. Among his noted works are "The Nativity" (his masterpiece), at Genoa; "Adoration of the Shepherds", at the Louvre, Paris; "Noah entering the Ark", at Dresden. Some notable prints are; "Melancholy", "Landscape" (dated 1658), "Animals Entering the Ark".
LEIGH HUNT
---
Enjoying this content?
Please support our mission!
Donate