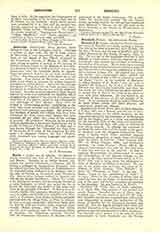 Click to enlarge
Benavides (BENAVIDEZ), FRAY ALONZO, Archbishop of Goa in the Portuguese Indies. Although a prelate of high rank, the life of Fray Alonzo de Benavides is very imperfectly known. He was born on the Island of San Miguel, professed in the Franciscan convent of Mexico in 1603, and, after acting as master of novices at the convent of Puebla, became Custos of the Missions of New Mexico, returned to Spain in 1630 and there was in communication with the Venerable Maria de Agreda. Upon his return to America he was made Archbishop of Goa. The date and place of his death are as yet unknown. Fray Alonzo de Benavides was indefatigable in his efforts to promote the welfare, temporal and spiritual, of New Mexico. He it was who, through the agency of Fray Esteban de Persa, secured a reinforcement of missionaries for the utterly neglected province. In order to excite interest in those remote regions, he wrote and published two booklets, full of exaggerations in regard to the number of Indians, but otherwise of the highest value for the ethnography and ethnology of New Mexico. They must be judged as "encouraging guides", embodying at the same time much accurate and valuable information gathered from personal knowledge. His account of the numbers of people and villages may have been influenced by data taken from Espejo but such mistakes do not affect the value of his writings in general. He published "Relation de los grandes Tesoros espirituales y temporales descubiertos con el auxilio de Dios en el Nuevo Mexico", in 1630, and is best known through the "Memorial que Fray Juan de Santander de la orden de San Francisco etc. presenta a. la Majestad Catblica del Rey" (Madrid, 1630; translated into various languages and republished).
AD. F. BANDELIER
---
Enjoying this content?
Please support our mission!
Donate