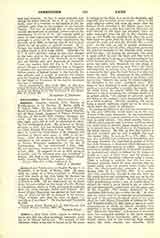 Click to enlarge
Amherst, FRANCIS KERRIL, D.D., Bishop of Northampton; b. at London, March 21, 1819; d. August 21, 1883. He was the eldest son of William Kerril Amherst, of Parndon, County Essex, Esquire, and of Mary Louisa, daughter of Francis Fortescue Turville, of Bosworth Hall, County Leicester, Esquire. He was sent to Oscott College in 1830, and after eight years left it with no intention of entering the ecclesiastical state. He returned to Oscott, however, in 1841, and was ordained priest by Cardinal (then Bishop) Wiseman, June 6, 1846. Shortly after, he joined the Third Order of St. Dominic, but returned to Oscott once more, in 1855, to be professor. After eleven months in this position he was appointed to the mission of Stafford, and thence, on Bishop Wareing's resignation, to the See of Northampton. He was consecrated July 4, 1858. He was appointed Assistant at the Pontifical Throne June 8, 1862. He resigned his see in 1879, owing to ill health, and the following year was translated to Sozusa. He died at his residence, Fieldgate, Kenilworth, County Warwick, August 21, 1883.
JOHN J. A' BECKET
---
Enjoying this content?
Please support our mission!
Donate