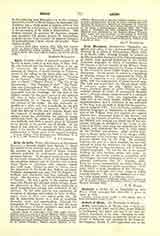 Click to enlarge
Arias, FRANCIS, writer of ascetical treatises, b. at Seville in Spain, 1533; d. in that place, May 15, 1605. He was received into the Society of Jesus at the age of twenty-six. He was professor of scholastic theology at Cordova, of moral theology at Trigueros, rector of the college in the latter place and also at Cadiz. His works are "Spiritual Profit", "Treatise on the Rosary", "Imitation of Our Lady", "Imitation of Christ", "Mental Prayer", "The Use of the Sacraments", "The Promises of God", "The Turpitude and Grievousness of Sin". Most of them have been translated into various languages. His life corresponded with his teachings. He was held in the highest esteem by the great master of the spiritual life, John of Avila, and St. Francis of Sales, in the "Introduction to a Devout Life", recommends the perusal of his works. He was commonly regarded as a saint, and was remarkable for his gift of prayer and his spirit of penance. Much of his time was devoted to the care of negroes, Moors, and the inmates of hospitals and prisons. From his earliest youth his predilection for spiritual things manifested itself; his career as a student in Alcala was brilliant, and while a secular priest he labored as an apostle in his native city of Seville. At his death it was difficult to protect his body from the piety of the people, who proclaimed him a saint and endeavored to secure parts of his apparel as relics.
T. J. CAMPBELL
---
Enjoying this content?
Please support our mission!
Donate