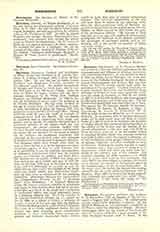 Click to enlarge
Borromini, FRANCESCO, architect and sculptor; b. September 25, 1599, at Bissone; d. (by his own hand) August 1, 1667, at Rome. He studied architecture under Carlo Maderna, a relative. On the death of Maderna, he was nominated as architect of St. Peter's, under the direction of Bernini. His most extravagant effort was the church of San Carlo alle Quattro Fontane (1640-67), a good example of the fully developed baroque style in Rome. In the church and part of the College of Propaganda Borromini's fancies are wildest; the cupola and campanile of Sant' Andrea delle Fratte are in better taste. The great nave of Saint John Lateran was modernized, as it now stands, by Borromini. His best work is the facade of Santa Agnese in the Piazza Navona. Borromini is generally considered the father of all modern abuses in architecture. He inverted the whole system of Greek and Roman architecture, without offering a substitute.
THOMAS H. POOLE
---
Enjoying this content?
Please support our mission!
Donate