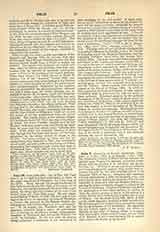 Click to enlarge
Felix V (AMADEUS OF SAVOY), ANTI-POPE (1440-1449), b. December 4, 1383; d. at Ripaille, January 7, 1451. The schismatic Council of Basle, having declared the rightful pope, Eugene IV, deposed, proceeded immediately with the election of an anti-pope (see Council of Basle). Wishing to secure additional influence and increased financial support, they turned their attention towards the rich and powerful prince, Duke Amadeus VIII of Savoy. Amadeus had exercised over his dependencies a mild and equitable sway, and evinced a great zeal for the interests of the Church, When, through the powerful influence of especially in connection with ie Western Schism regarding the papal succession, brought to a close by the Council of Constance. Emperor Sigismund had shown his appreciation of this ruler's services by raising, in 1416, the former county of Savoy to the status of a duchy, and in 1422 conferred on Amadeus the county of Geneva. On the death of his wife, Maria of Burgundy, Duke Amadeus resolved to lead henceforth a life of contemplation, without however entirely resigning the government of his territories. He appointed his son Ludwig regent of the duchy, and retired to Ripaille on the Lake of Geneva, where, in company with five knights whom he had formed into an Order of St. Maurice, he led a semi-monastic life in accordance with a rule drawn up by himself.
Amadeus had been in close relations with the schismatic Council of Basle; and was elected pope, October 30, 1439, by the electoral college of that council, including one cardinal (d'Allemand of Arles), eleven bishops, seven abbots, five theologians, and nine canonists. After long negotiations with a deputation from the council, Amadeus acquiesced in the election, February 5, 1440, completely renouncing at the same time all further participation in the government of his duchy. Ambition and a certain fantastic turn of character induced him to take this step. He took the name of Felix V, and was solemnly consecrated and crowned by the Cardinal d'Allemand, July 24, 1440. Eugene IV had already excommunicated him, March 23, at the Council of Florence. Until 1442, the famous 2Eneas Sylvius Piecolomini, later Pius II, was the anti-pope's secretary. This renewal of the schism ruined any surviving prestige of the Basle assembly, just closed at Constance. Subsequently, Amadeus took up his residence in Savoy and Switzerland; his efforts to surround himself with a curia met with little success; many of those whom he named cardinals declined the dignity. He found general recognition only in Savoy and Switzerland, but his claims were also recognized by the Dukes of Austria, Tyrol, and Bayern-Munchen, the Count-Palatine of Simmern, the Teutonic Order, some orders in Germany and some universities, hitherto adherents of Basle. He was soon embroiled in a quarrel with the Council of Basle concerning his rights and the distribution of revenues. The rightful pope, Eugene IV, and his successor Nicolas V (1447), who were universally recognized from the first in Spain and Poland, found their claims even more widely admitted in France and Germany. In 1442, Felix left Basle; and on May 16, 1443, occurred the last session of the Basle assembly. Felix, who had for the sake of its revenue assumed the administration of the Diocese of Geneva, clung for six years more to his usurped dignity, but finally submitted (1449) to Nicolas V, received the title of Cardinal of St. Sabina, and was appointed permanent Apostolic vicar-general for all the states of the House of Savoy and for several dioceses (Basle, Strasburg, Chur, etc.). Thus ended the last papal schism.
J. P. KIRSCH
---
Enjoying this content?
Please support our mission!
Donate