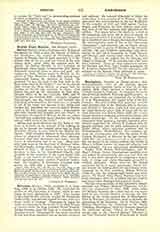 Click to enlarge
Birkowski, FABIAN, Polish preacher, b. at Lemberg, 1566; d. at Cracow, 1636. He completed his studies at the University of Cracow, where he also began to teach philosophy in 1587. After having taught there for five years he entered the Dominican Order (1592), and devoted himself for some time to a deeper study of theology. Thereupon he began his career as a preacher in the church of the Holy Trinity at Cracow where the king attended Divine worship. During fourteen years his fame as a preacher drew immense crowds. Sigismund III was much attached to him and often consulted him on matters temporal and spiritual. He induced Birkowski to follow the court when it was transferred to Warsaw. He also appointed him court-preacher to his son Wladislaw. In the crusades of 1617 and 1618 against Turkey, Russia, and Walachia, the friar took no small part, and some of his best sermons were delivered to the soldiers. Two years before his death he retired to his monastery and never left it save to preach on some great occasion or in behalf of charity. Birkowski is considered one of the greatest orators of Poland. His contemporaries spoke of him as the "Sarmatian Chrysologus", and posterity has not found anyone superior to him in. purity of diction in the sixteenth century. He uses Scripture quotations very often, though he also refers frequently to Virgil, Horace, and Homer, and among later writers to Justus Lipsius. He has no respect for the learning and temper of Erasmus. Of his sermons only a few have been published. There are three volumes of sermons for Sundays and Holy Days, besides panegyrics on St. Josaphat, Sigismund III, his wife Constantia, and sermons on the Blessed Virgin delivered in camp.
THOS. M. SCHWERTNER
---
Enjoying this content?
Please support our mission!
Donate