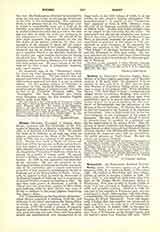 Click to enlarge
Bocking (or BOKKYNG), EDWARD, English Benedictine, b. of East Anglian parentage, end of fifteenth century; d. April 20, 1534. He graduated B. D. at Oxford, in 1513, and D. D. in 1518, was for some time Warden of Canterbury College there, and became a monk at Canterbury 1526. When Elizabeth Barton, "The Holy Maid of Kent", commenced her alleged Divine revelations, Bocking, with another monk, was sent to examine and report upon their authenticity, and he is said to have induced her to declare herself an inspired emissary for the overthrow of Protestantism and the prevention of the divorce of Queen Catherine. To further this scheme he had her removed to the Convent of St. Sepulchre at Canterbury. There is little doubt that he was her chief instigator in the continuance of her career of deception. His share in the affair, though it cannot be excused, must be ascribed to a mistaken zeal for the preservation of the ancient Faith. After the divorce of Queen Catherine and Henry's marriage to Anne Boleyn in 1533, Cromwell had Elizabeth Barton arrested, together with Bocking and others. Bocking confessed the imposture and, with his accomplices, did public penance at Paul's Cross. He and six others were hanged at Tyburn.
G. CYPRIAN ALSTON
---
Enjoying this content?
Please support our mission!
Donate