Don Isaac Abrabanel
Jewish statesman, apologist and exegete, b. in Lisbon, 1437; d. in Venice, 1508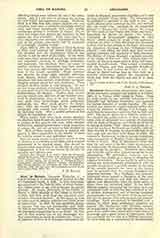 Click to enlarge
Abrabanel (ABRAVANEL, ABARBANEL), DON ISAAC, Jewish statesman, apologist and exegete, b. in Lisbon, 1437; d. in Venice, 1508, buried in Padua. From his early youth, he was carefully instructed in the Talmudic and Rabbinic literatures, and mastered the various branches of secular learning. His keen intellect and, above all, a great business ability drew to him the attention of Alfonso V of Portugal, who made him his treasurer, a position that he held until 1481. The favor shown by a Catholic prince to a Jew shocked the public opinion of those times, and under John II Abrabanel was accused of conspiring with the Duke of Braganza, and barely saved his life by fleeing to Castile, 1483. Soon afterwards he entered the service of Ferdinand and Isabella, 1484-92. After the fall of Granada, he shared the fate of his race, and was banished from Spain in 1492. He repaired to Naples and, owing to various vicissitudes, went successively to Messina, Corfu, Monopoli, and finally to Venice. Most of Abrabanel's works date from the last years of his life, when, on account of his misfortunes, he found more leisure for collecting and ordering his thoughts. Abrabanel knew Plato and Aristotle, and is often ranked among the Jewish philosophers. His philosophy, however, was intended by him simply as a means of defending his religious convictions. He can hardly be said to have written any work professedly philosophical, with the possible exception of a juvenile treatise on the form of the natural elements; his views in this respect must be gathered from his various theological and exegetical treatises. As a theologian and apologist, Abrabanel shows himself a champion of the most rigid Jewish orthodoxy, and does not hesitate to oppose even Maimonides when the latter seems to depart from the traditional belief. In the field of Biblical exegesis, Abrabanel has the merit of having anticipated much of what has been advanced as new by modern investigators, and of having considered systematically not only the letter of the sacred text, but also the persons of its authors, their aim and surroundings. Each commentary is furnished with a preface in which these preliminary questions are treated. His familiarity with Christian authors, his acquaintance with court life and customs, a keen sense of his misfortunes, joined with a very extensive knowledge and a great power of observation, fitted him eminently for the task of a Biblical interpreter. We have from him a commentary on Deuteronomy; on the first four books of the Pentateuch; on the earlier and on the later Prophets. They have been warmly lauded both by Jews and by Christians, have passed through several editions, and many of them have been, in whole or in part, translated into Latin. Of his other works we may mention "The Crown of the Ancients", "The Pinnacle of Faith", "The Sources of Salvation", in the form of a commentary on Daniel, "The Salvation of His Anointed", "The Herald of Salvation", in which are collected and explained all the Messianic texts. His works, the titles of which are here rendered in English, were written in a clear, refined, but occasionally diffuse modern Hebrew.
ROMAIN BUTIN
---
Enjoying this content?
Please support our mission!
Donate