Domenico Campagnola
Painter of the Venetian school, b. at Padua in 1482; date of death unascertained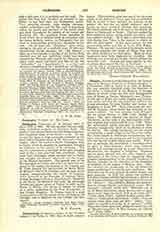 Click to enlarge
Campagnola, DOMENICO, painter of the Venetian school, b. at Padua in 1482; date of death unascertained. This excellent artist was one of the cleverest pupils of the School of Titian, and was so proficient that he is said to have aroused the jealousy of his master; He was also an expert engraver, and is known to have executed etchings and woodcuts. His fresco paintings are to be seen in the Scuola del Santo at Padua and in Venice. They are marked by fresh animated color, strong poetic sympathy, and easy brilliant technique. He is said to have been even more daring than Titian in the manner in which he drew the nude figure. A fine panel picture by him representing Adam and Eve is in the Pitti Palace, Florence. He was also a painter of landscapes which so closely resemble the works of Titian that they are often attributed to that artist. Many of these landscapes have been engraved by Corneille. His etchings, ten of which are known, almost all bear the same date, 1517. On some his name appears in full, on others abbreviated DO.CAP. or DO.CAMP.
GEORGE CHARLES WILLIAMSON
---
Enjoying this content?
Please support our mission!
Donate