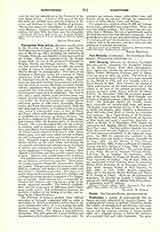 Click to enlarge
Port Victoria, Diocese of (PORTUS VICTORI AE SEYCHELLARUM), comprises the Seychelles Islands in the Indian Ocean. With their dependencies, these eighty-nine islands, the principal of which are Mahe, Praslin, Silhouette, Curieuse, and La Digue, cover an area of 148% sq. miles. The French occupied the islands about 1742, but they were captured by the British in 1794, and were formally ceded to Great Britain in 1848. Port Victoria, the capital of Mahe and situated on the northeastern side of the island, is the seat of the colonial government, the present governor being Walter Edward Davidson, C.M.G. In December, 1909, the estimated population of the islands was 22,409. Both Catholic and Church of England primary schools are aided by the State. The principal exports are vanilla, cocoa-nuts, cocoa-nut oil, tortoise-shell, soap, and guano. The double cocoa-nut known as Coco de Mer is grown in Mahe and Praslin, while Aldabra, a dependency about 680 miles from Mahe, is famous for enormous land tortoises. By a Papal Decree of November 26, 1852, the Seychelles were separated from the Diocese of Port Louis and made a prefecture Apostolic, to which a Decree of December 6, 1854, joined the Amirantes and Agalega Islands, likewise separated from Port Louis. The first prefect Apostolic was the Right Reverend Jeremias Paglietti, who as a missionary had labored successfully in the region for many years. In 1863 the mission was confided to the Capuchins, and was made a vicariate Apostolic on August 31, 1880. As the Diocese of Port Victoria (erected July 14, 1892), it was a suffragan of Colombo, Ceylon, but by a Decree of June 3, 1899, it became directly subject to the Holy See. The present bishop is the Right Reverend Bernard Thomas Clarke, O.M.Cap. (b. at London, November 12, 1856; made titular Bishop of Tingis, March 19, 1902, and Vicar Apostolic of Arabia). On June 10, 1910, he was transferred to Port Victoria, where he succeeded Bishop Marc Hudrisier (b. at Faverges, France, July 27, 1848; became Bishop of Port Victoria, July 21, 1892; d. February, 1910). Besides Capuchins there are in the diocese Marist Brothers and Sisters of St. Joseph of Cluny. There are 18 ecclesiastical residences, 18 churches or chapels, 1 infirmary, 24 schools with 2170 pupils, 2 colleges with 215 students, 2 orphanages with 67 orphans.
BLANCHE M. KELLY
---
Enjoying this content?
Please support our mission!
Donate