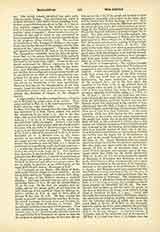 Click to enlarge
Maitland, Diocese of (MAITLANDENSIS), in New South Wales. Maitland, the principal settlement on Hunter River, was chosen as the title for a bishop in 1848, when Dr. William Henry Davis, O.S.B., was sent as coadjutor to the Right Rev. Dr. Polding, O.S.B., Archbishop of Sydney, with the title of Bishop of Maitland. However, it did not become a residential see until some twenty years later, when the first suffragan dioceses of New South Wales were established: Goulburn in 1864, and Bathurst and Maitland in 1865. The Right Reverend James Murray, then secretary to Cardinal Cullen, was appointed Bishop of Maitland, and, after being consecrated in the pro-cathedral of Dublin by Cardinal Cullen on November 14, 1865, proceeded to his distant diocese, of which he took possession on November 1, 1866. The Diocese of Maitland, which served as an episcopal title to Bishop Davis, O.S.B., consisted of the borough of East Maitland only. The diocese, as constituted by Papal Brief of 1866, was very extended, and in 1887, at Bishop Murray's request in the first Plenary Council of Sydney, a considerable reduction in its territory was made, bringing it to its present limits. The present Diocese of Maitland comprises that portion of New South Wales, which lies between Camden Haven and Red Head, stretching west as far as Wollar and Cassilis and north as far as Murrurundi. It thus lies between 31° 31′ and 33° 7′ S. lat., and between 149° 50′ and 152° 51′ E. long. The area is about 12,000 sq. miles. The rainfall ranges from 30 to 40 inches annually in the parts near the coast, and from 20 to 30 in the other parts. The mean annual temperature is 63°. The diocese contains a large area of coal-measures in the vicinity of Maitland and Newcastle; large stretches of rich arable land lie on the banks of Hunter and Manning Rivers, and fine pastoral tracts throughout.
Among its population of some 150,000, Maitland has a Catholic population of 30,000. The Catholics are for the most part of Irish descent, but in a few places those of German descent are fairly numerous. There are twenty parochial districts, each possessing a church and presbytery with one or more resident secular priests (in all 40), and in nearly every district are one or more convents of teaching sisters (in all 30 convents and 250 sisters). Catholic parochial schools unaided. by the state have been established in every district, and are attended by about 4000 children. There is a Redemptorist monastery at Waratah, which is the center of popular missions. The Marist Brothers have boys' schools at Maitland and Newcastle. The Dominican Nuns from Kingstown, Ireland, have boarding and day schools, and are engaged in both secondary and primary education. The Sisters of Mercy, from Ennis and Callan, Ireland, have a large number of primary schools, besides boarding and select schools. The Sisters of St. Joseph from Bathurst have several day schools and a boarding-school—all for primary education. The only Catholic Institute for Deaf Mutes in Australasia is conducted at Waratah by the Dominican Nuns. The Sisters of Mercy conduct an orphanage for girls at West Maitland. The building and maintenance of the churches is carried on entirely by charitable offerings; schools are also dependent on the small fees paid and on the charitable support of Catholics. Maitland's first bishop, Right Rev. James Murray, d. in 1909. He was succeeded by Right Rev. Patrick Vincent Dwyer, the first Australian-born bishop, ordained a priest in 1882, and consecrated coadjutor-bishop in 1897.
P. V. DWYER
---
Enjoying this content?
Please support our mission!
Donate