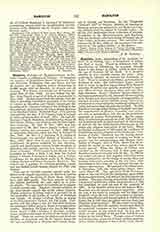 Click to enlarge
Hamilton, Diocese of (HAMILTONENSIS), in Ontario, Canada, a suffragan of Toronto. It comprises the counties of Haldimand, Brant, Wentworth, Halton, Waterloo, Wellington, Grey and Bruce, and has 43 seculars and 18 religious priests ministering to 55,000 people with 42 churches, 24 chapels and 20 stations. This diocese was erected out of Toronto by papal Bull, February 17, 1856. Its first bishop was Rt. Rev. John Farrell, a native of Ireland, consecrated May 11, 1856. He introduced Catholic schools, built St. Mary's cathedral, established academies of the Ladies of Loretto at Hamilton and Guelph, encouraged the founding of St. Jerome's College by the Fathers of the Resurrection, and confided the Owen Sound Missions to the Basilian Fathers. He died September 26, 1873, and was succeeded by Rt. Rev. P. F. Crinnon, born in Ireland in 1818 and consecrated April 19, 1873. He built St. Patrick's Church, Hamilton, established the House of Providence, Dundas, and secured a site for Holy Sepulchre cemetery. He died November 25, 1882, and was succeeded by Rt. Rev. James Joseph Carbery, O.P. Bishop Carbery was consecrated November 11, 1883, held an important diocesan synod and died in Ireland, December 19, 1887. Rt. Rev. T. J. Dowling, D. D., bishop of Peterborough, was installed Bishop of Hamilton, May 2, 1889. Since then 14 new parishes have been established, 28 priests ordained, 22 new churches, schools and presbyteries erected, besides hospitals at Hamilton and Guelph, and the new House of Providence at Dundas. Of the priests in the diocese, 42 are Canadian by birth, 4 Irish, 4 are from the United States, 4 French, 3 German, 2 Polish, and 2 Italian. Candidates for the priesthood study in St. Jerome's College (Berlin) and Grand Seminary, Montreal. The diocese has 9 parishes for German-speaking people and one Indian parish, besides chapels for Poles and Italians.
There are 51 Catholic separate schools under the Sisters of St. Joseph (Hamilton), the Sisters of Loretto (Toronto), and the Sisters of Notre Dame (Milwaukee), with 6000 pupils. The State accords to Catholic schools practically the same rights as to public schools. The taxes paid by Catholics go to support Catholic schools only. Teachers, whether religious or lay, must qualify exactly like public school teachers. Higher education of young women is provided for in the academies of the Ladies of Loretto at Hamilton and Guelph. St. Jerome's College, Berlin, in charge of the Resurrectionist Fathers, has 150 pupils. Connected with the college is also the American novitiate for candidates before going to Rome to complete their studies. Hamilton, the largest city, has 65,000 population (about 11,000 Catholics), 5 churches, mother-house, novitiate and house of study of the Sisters of St. Joseph. There are asylums for orphans and destitute children at Hamilton and the St. Agatha homes for the aged and indigent at Dundas and Guelph, hospitals at Guelph and Hamilton. By the "Neglected Children's Act" of Ontario, children of immoral or dissolute parents are adopted by the State, but Catholic children must be placed in Catholic homes. In all the civil institutions there is freedom of worship. In addition to the Resurrectionists and Basilians, there are the Jesuits who have charge of Guelph, also of Cape Croker, an Indian mission. The cathedral was consecrated May 20, 1906, on the occasion of the celebration of "the golden Jubilee" of the diocese.
J. M. MAHONY
---
Enjoying this content?
Please support our mission!
Donate