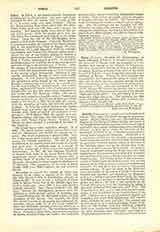 Click to enlarge
Coria (CAURIA), Diocese of (CAURIENSIS), in Spain, suffragan of Toledo; it includes nearly the entire province of Caceres, with the exception of a few parishes that belong to the Diocese of Salamanca. The first mention of a Diocese of Coria is in 589 when its bishop, Jacintus, subscribed the acts of the Third Council of Toledo. Under Visigothic rule Coria was a suffragan of Merida. During the Arab conquest the episcopal list was continued by means of titular bishops; one of them, Jacobus, appears among the prelates who assisted at the consecration of the church of Compostela in 876. After the reconquest of the city (1142) Alfonso VII turned the mosque into a cathedral, and had it reconsecrated in honor of the Blessed Virgin and all the saints. The first bishop of the new series was Inigo Navarron. The statistics for 1906 were: Catholics, 171,041; priests, 250; parishes, 124; churches, 159; chapels, 186.
EDUARDO DE HINOJOSA
---
Enjoying this content?
Please support our mission!
Donate