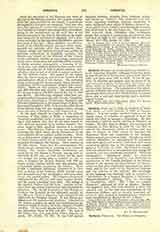 Click to enlarge
Cordova, DIOCESE OF (CORDUBENSIS IN AMERICA), in the Argentine Republic, suffragan of Buenos Aires. It was created in 1570, but was vacant from 1819 to 1830, and again from 1841 to 1858. It has 46 parishes, 49 churches and chapels, and, by reason of its vast extent (it includes the two states of Cordova and Rioja, which in 1895 had about 570,000 souls), has two auxiliary bishops. The population of the episcopal city is 53,000; one of the two national universities, the second oldest in the New World (1573), is located there, also a national observatory, and a meteorological bureau.
---
Enjoying this content?
Please support our mission!
Donate