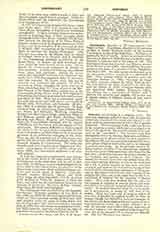 Click to enlarge
Conversano, Diocese of (CUPERSANENSIS), suffragan to Bari. Conversano, situated in the province of Bari, in Apulia (Southern Italy), is the ancient Cupersanum, a city of the Peucetians. Its history is practically that of Apulia. After the invasion of the Normans, it was for a while the seat of a duchy; later, however, it became a fief of the dukes of Atli. The first bishop whose date is certain was Hilarius, present at the Roman synod of 501. Local tradition, however, preserves the name of a previous bishop, Simplicius, who died in 492. No other names are recorded up to the episcopate of Leo, mentioned in a document of 1088. Other bishops worthy of mention were: the Cistercian Stefano (c. 1266); Giovanni de Gropi (c. 1283); Antonio Guidotti (d. 1433); Paolo de Torcoli, who died in the odor of sanctity in 1482; Romolo de' Valenti (d. 1579); Giuseppe Palermo (who was appointed 1658), Andrea Brancaccia (1681). The diocese has a population of 95,521, with 7 parishes, 130 churches and chapels, 132 secular and 8 regular priests, 2 religious houses of men and 8 of women.
U. BENIGNI
---
Enjoying this content?
Please support our mission!
Donate