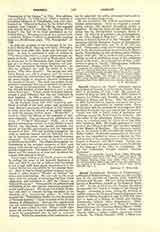 Click to enlarge
Cariati (PATERNIUM), Diocese of (CARIATENSIS), suffragan of Santa Severina. Cariati is a city of Calabria in the province of Cosenza, Italy, healthfully situated near the sea. The first bishop mentioned in history is Menecrates, present at the Synod of Rome in 499. In one of his letters St. Gregory the Great recommends the Church of Cariati to the Bishop of Reggio. According to some, during the eleventh or twelfth century the Diocese of Cerenza (Geruntia) was united to Cariati, though it is only in 1342 that mention is made of a Bishop of Cariati and Cerenza.
Noteworthy bishops were: Polychronius (1099), founder of the monastery of S. Maria di Attilia in Santa Severina; the Cistercian Blessed Matteo (1234), first Abbot of San Giovanni di Fiore; Alessandro Crivello (1561), a gallant soldier, afterwards nuncio in Spain; Fra Filippo Gesualdo (1602), a Minor Conventual who died in the odor of sanctity. In 1818 Pius VII united with this diocese Strongoli and Umbriatico. The diocese contains a population of 60,-000, with 28 parishes, 70 churches and chapels, 1 regular and 60 secular priests.
U. BENIGNI
---
Enjoying this content?
Please support our mission!
Donate