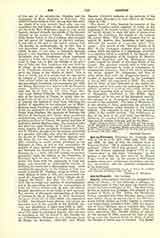 Click to enlarge
Aix-en-Provence, COUNCILS OF.—Councils were held at Aix in 1112, 1374, 1409, 1585, 1612, 1838, and 1850. In that of 1612 the Gallican work of Edmund Richer, "De la puissance ecclesiastique et politique" (Paris, 1611), was censured. In that of 1838 the Fathers requested Gregory XVI to add "Immaculate" to the word "Conception" in the preface of the Mass for that feast of the Blessed Virgin, which he did. In the council of 1850 many modern errors were condemned, rationalism, pantheism, communism, also the arbitrary interpretation of the Scriptures.
THOMAS J. SHAHAN
---
Enjoying this content?
Please support our mission!
Donate