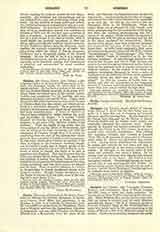 Click to enlarge
Coenred (or CENRED, also COENRIED, COINRED, KENRED, and CHRENRED), King of Mercia (reigned 704-709); date of birth and death unknown. He was the son of King Wulfhere and his Queen Eormengild. When Wulfhere died, in 675, Coenred was probably too young to succeed, and his uncle .Ethelred ascended the throne. The A. S. Chronicle speaks of Coenred becoming King of the Southumbrians (a name very rarely used) in 702, and succeeding to the throne of Mercia in 704, when .Ethelred retired to the cloister. Southumbria probably designates the northern portion of Mercia, which "Ethelred recovered from Northumbria. It is inferred that the people of this region rebelled against 'Ethelred and chose Coenred for their king, and later induced 'Ethelred to resign the whole of Mercia in favor of Coenred in 704. A reaction against the Southumbrians took place in 709, when Coenred abdicated in favor of Coelred, the son of 'Ethelred. Coenred then accompanied Off a, King of the East Saxons, to Rome, where he received the monastic habit from Pope Constantine. He was present at a council of the Mercian clergy in 705, and his name appears on several charters granting lands to Waldhere, Bishop of London, to Cuthswith, Abbess of Worcester, and also to the Abbey of Evesham. It does not appear that he was ever married. A great lover of peace, and of a pious disposition, he was more suited for the cloister than the throne. St. Bede tells us that he befriended St. Wilfrid when in exile, and relates in detail his efforts to convert to a better life one of his chief nobles, who finally died in despair.
GE HIND
---
Enjoying this content?
Please support our mission!
Donate