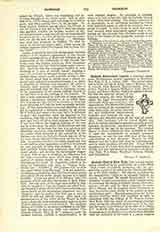 Click to enlarge
Catholic Club of New York, the, a social organization described by its constitution as a club which "shall consist of Catholic gentlemen who are governed by a spirit of devotion to the Church and fidelity to the Holy Father". Its objects, as defined by the constitution, "shall be to advance Catholic interests, to promote the moral improvement of its members, to foster among them a true Catholic spirit, to encourage the study of Catholic history, literature, science and art, and for these purposes to maintain a library, and by frequent social intercourse to bind themselves more closely in the pursuit of these and kindred ends". The club sprang from the Xavier Alumni Sodality, which was organized in 1863, in connection with the College of St. Francis Xavier, New York, with the object of encouraging Christian piety among the educated Catholic men of the city, and for many years directed by the Rev. P. F. Dealy, S.J. In March, 1871, the Xavier Union was organized by members of the Sodality to promote other desirable ends not embraced in the scope of a purely religious organization, and to unite the members more intimately in social intercourse. The club was formally opened March 13, 1871, with a membership of about 150, and Joseph Thoron was elected its first president, on March 28 of the same year. In 1872 Archbishop McCloskey took the club under his formal protection, and the organization has ever since enjoyed the active patronage of the archbishops of New York, and has cooperated with them in promoting Catholic interests. On January 1, 1888, the name was changed from the Xavier Union to the Catholic Club of the City of New York. Its growth was soon such that a building was erected for it on a site purchased at No. 120 Central Park South, for $115,000. Here a building, 75 by 200 feet, was erected at a cost of $225,000, of which formal possession was taken in 1892. From this period the club grew with great rapidity until the normal, resident membership numbers about 1000, the non-resident over 500, and, in addition, there is a considerable army and navy membership consisting of officers of these arms of the service. The club is governed by a board of officers and managers, and has a spiritual director appointed by the Archbishop. A Committee on Catholic Interests has special charge of all matters within the scope indicated in which Catholic lay activity or cooperation with the archbishop may seem necessary. The library contains over 35,000 volumes. Many lectures are given during the season, and the club cooperates with leading educational and charitable Catholic enterprises.
JOHN JEROME ROONEY
---
Enjoying this content?
Please support our mission!
Donate