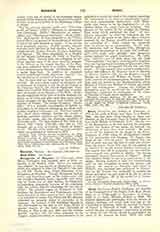 Click to enlarge
Bonagratia of Bergamo (or PERGAMO), Friar Minor, theologian, and canonist, date of birth unknown; d. at Munich, 1343. Before his entrance into religion, he was known as Boncortese, a name which was adopted at times by Clement V who used to call him dilectus filius Frater Boncortese, dictus Bonagratia de Pergamo. Though Bonagratia took an active and important part in the controversy with the so-called Spiritual Friars, especially with Ubertino of Casale, one of their leaders, his biography is interesting principally because of his connection with the famous dispute concerning the poverty of Christ. The contest began at Narbonne in 1321 between the Dominicans and Franciscans, and the main question at issue seems to have been whether it is heretical to assert that Christ and His Apostles possessed no property either in particular or in common. On account of the important bearing of the controversy on the rule of the Friars Minor, a general chapter of the order was convoked at Perugia, in June of the year 1322, and the minister general, together with the other members of the chapter, caused two letters or communications to be published in which the mind of the chapter regarding the controversy is set forth at considerable length, and with unmistakable distinctness; while Bonagratia was chosen to be the representative of the chapter before the papal Curia at Avignon. Displeased at the action of the chapter at Perugia, Pope John XXII published the Bull "Ad conditorem canonum" in which he renounces the dominion of all the goods of the Friars Minor hitherto assumed by the Roman pontiffs, and declares that the ownership of a thing cannot be separated from its actual use or consumption. At the public consistory held in January, 1323, Bonagratia appeared in the presence of the pope and cardinals, and with more zeal perhaps than discretion openly opposed the papal constitution. His boldness, however, was of little avail, for the Bull "Ad conditorem" was again promulgated in lengthier form, but bearing its previous date of December 8, 1322, and the audacious Bonagratia himself was cast into prison. He was released after a year's confinement, and in 1330 followed the Emperor Louis of Bavaria to Munich, together with the Ex-Minister General Michael of Cesena and William of Occam. Still under sentence of excommunication, Bonagratia died there and was buried in the Barfusserkirche, where Michael of Cesena and William of Occam also found their last resting-place. Among the writings of Bonagratia may be mentioned his "Articuli probationum", composed in confutation of the errors of Ubertino of Casale above mentioned.
STEPHEN M. DONOVAN
---
Enjoying this content?
Please support our mission!
Donate