Bernard O'Reilly
Historian, b. Sept. 29, 1820, in County Mayo, Ireland; d. in New York, U.S.A., April 26, 1907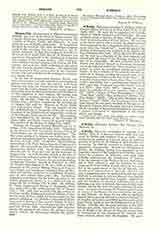 Click to enlarge
O'Reilly, BERNARD, historian, b. September 29, 1820, in County Mayo, Ireland; d. in New York, U.S.A., April 26, 1907. In early life he emigrated to Canada, where in 1836 he entered Laval University. He was ordained priest in Quebec, September 12, 1843, and ministered in several parishes of that diocese. He was one of the heroic priests who attended the plague-stricken Irish emigrants in the typhus-sheds along the St. Lawrence after the "black '47". Later he entered the Society of Jesus and was attached to St. John's College, Fordham, New York. When the Civil War broke out he went as a chaplain in the Irish Brigade and served with the Army of the Potomac during a large part of its campaigns. He then withdrew from the Jesuits and devoted himself to literature, becoming one of the editorial staff of the "New American Cyclopedia" to which he contributed articles on Catholic topics. At the conclusion of this work he travelled extensively in Europe, sending for several years an interesting series of letters to the New York "Sun". He lived for a long period in Rome where Pope Leo XIII, besides appointing him a prothonotary Apostolic in 1887, gave him the special materials for his "Life of Leo XIII" (New York, 1887). Among the many books he published these were notable: "Life of Pius IX" (1877); "Mirror of True Womanhood" (1876); "True Men" (1878); "Key of Heaven" (1878); "The Two Brides" (1879); "Life of John MacHale, Archbishop of Tuam" (1890). On his return to New York from Europe he was made chaplain at the convent of Mount St. Vincent, where he spent the rest of his days. On the occasion of his sacerdotal jubilee he was given a signed testimonial of appreciation of his fellow priests and friends.
THOMAS F. MEEHAN
---
Enjoying this content?
Please support our mission!
Donate