Bartolommeo and Vincenzo Carducci
Florentine painters in the sixteenth and seventeenth centuries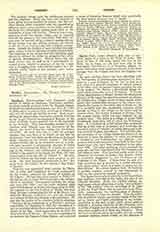 Click to enlarge
Carducci, BARTOLOMMEO and VINCENZO, both known in Spain as Carducho, Florentine painters, brothers, usually grouped under the Spanish School. Of these two artists Bartolommeo, the elder (b. 1560; d. 1608), after executing a few paintings in Florence, only two of which are worthy of note—those representing the Immaculate Conception and the Nativity in the Jesuit Church—accompanied Zuccaro to the court of Philip II and assisted him in his paintings in the Escorial. Here Bartolommeo worked in conjunction with Tibaldi upon the decoration of the library, the latter doing the ceiling and the former the walls. He took with him, in 1585, his younger brother, who was then at so tender an age that he declares he "had very faint recollections of Italy and spoke Castilian as his mother tongue". The elder brother worked also as an architect and as a sculptor, and executed a considerable amount of fresco work in the Escorial for Philip II, notably the painting in the Cloister, and commenced to decorate a gallery in the palace of the Pardo, for Philip III, with scenes taken from the life of Charles V. He died, however, before he had made much progress in this work. His most important production is his "Descent from the Cross", in the church of San Felipe in Madrid.
Vincenzo was appointed court painter by Philip III, in 1609, and completed the work commenced by his brother, adopting the history of Achilles as his subject. He was also court painter to Philip IV. He did not live to finish his last picture, a St. Jerome, which is inscribed "Vincencius Carducho hic vitam non opus finit 1638", and his death occurred while under confinement, as he lost his reason early in 1638. He painted for the Carthusians at Paular fifty-four large pictures representing the life of St. Bruno; the National Museum of Madrid, too, and the churches and palaces of that city abound in his paintings. He was also the author of an excellent book on painting, "Dialogos de las excelencias de la Pintura", and was responsible for obtaining in 1633 the remission of a tax on paintings which was a serious burden upon the artists of his day. Four years later he secured the total abolition of the tax. He was also commissioned to decorate the Palace of Buen Retiro, and executed a series of historical frescoes which were practically the first secular pictures seen in Castile.
GEORGE CHARLES WILLIAMSON
---
Enjoying this content?
Please support our mission!
Donate