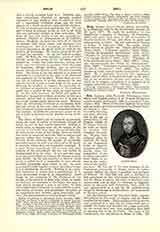 Click to enlarge
Bell, ARTHUR (alias FRANCIS), VENERABLE, Friar Minor and English martyr, b. at Temple-Broughton near Worcester, January 13, 1590; d. at London, December 11, 1643. When Arthur was eight his father died and his mother gave him in charge of her brother Francis Daniel, a man of wealth, learning, and piety, who sent him at the age of twenty-four to the English college at St.-Omer; thence he went to Spain to continue and complete his studies. Having been ordained priest, he received the habit of the Franciscan Order at Segovia, August 9, 1618, and shortly after the completion of his novitiate was called from Spain to labor in the restoration of the English province. He was one of the first members of the Franciscan community at Douai, where he subsequently fulfilled the offices of guardian and professor of Hebrew. In 1632 Bell was sent to Scotland as first provincial of the Franciscan province there; but his efforts to restore the order in Scotland were unsuccessful and in 1637 he returned to England, where he labored until November, 1643, when he was apprehended as a spy by the parliamentary troops at Stevenage in Hertfordshire and committed to Newgate prison.
The circumstances of his trial show Bell's singular devotedness to the cause of religion and his desire to suffer for the Faith. When condemned to be drawn and quartered it is said that he broke forth into a solemn Te Deum and thanked his judges profusely for the favor they were thus conferring upon him in allowing him to die for Christ. The cause of his beatification was introduced at Rome in 1900. He wrote "The History, Life, and Miracles of Joane of the Cross" (St.-Omer, 1625). He also translated from the Spanish of Andrew a Soto "A brief Instruction how we ought to hear Mass" (Brussels, 1624).
STEPHEN M. DONOVAN
---
Enjoying this content?
Please support our mission!
Donate