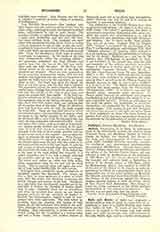 Click to enlarge
Bullion, ANGELIQUE, b. in Paris, at commencement of the seventeenth century, her parents being Guichard Favre and Madeleine Brulart de Sillery. Claude de Bullion, her husband, was Keeper of the Seals and Superintendent of Finances under Louis XIII; Cardinal Richelieu annually rewarded his intelligent and disinterested administrations by a bonus of 100,000 livres. After his death (1640), her four children being well provided for, she followed the advice of the Recollet Father Rapin, and contributed in 1641-42, 60,000 livres to the foundation of Ville-Marie, now the city of Montreal, Canada. She founded and endowed (1643) a Hotel-Dieu in honor of St. Joseph, begun at Ville-Marie (1642) by Mademoiselle Mance, and confided in 1657-59, to the care of the Sisters of St. Joseph, an order instituted at La Fleche by a pious layman, Royer de la Dauversiere, one of the joint founders of Montreal. She likewise contributed more than 20,000 livres for the defense of the settlement against the Iroquois Indians, thereby helping to save the whole colony of New France from destruction. She always insisted on being mentioned in the deeds ratifying her donations as "An unknown benefactress". Her identity was revealed only after her death.
LIONEL LINDSAY
---
Enjoying this content?
Please support our mission!
Donate