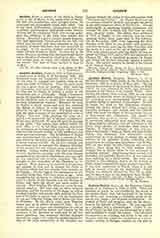 Click to enlarge
Andrew, Saint, a martyr of the Faith in Lampsacus, a city of Mysia, in the persecution of Decius. He and two companions were brought before the proconsul and interrogated about their belief. One of the three, Nichomachus, presumptuous and over confident, unfortunately apostatized under torture. Andrew and his companion Paul, after having undergone the sufferings of the rack, were thrown into prison. Meantime a girl of sixteen, named Dionysia, who had reproached Nichomachus for his fall, was seized and tortured, and then subjected to the approaches of three libertines, but was protected by an angel. In the morning, Andrew and Paul were taken out and stoned to death. As they lay in the arena, Dionysia, escaping from her captors and hurrying to the place of execution, asked to be slain. She was carried away by force, and suffered death by the sword. The feast of these martyrs is kept on May 15.
J. CAMPBELL
---
Enjoying this content?
Please support our mission!
Donate