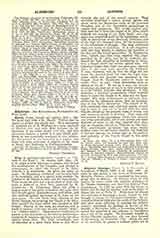 Click to enlarge
Aloysius Gonzaga, Saint, b. in the castle of Castiglione, March 9, 1568; d. June 21, 1591. At eight he was placed in the court of Francesco de' Medici in Florence, where he remained for two years, going then to Mantua. At Brescia, when he was twelve, he came under the spiritual guidance of St. Charles Borromeo, and from him received First Communion. In 1581 he went with his father to Spain, and he and his brother were made pages of James, the son of Philip II. While there he formed the resolution of becoming a Jesuit, though he first thought of joining the Discalced Carmelites. He returned to Italy in 1584 after the death of the Infanta, and after much difficulty in securing his father's consent, renounced his heritage in favor of his brother, November 2, 1585, a proceeding which required the approval of the emperor, as Castiglione was a fief of the empire. He presented himself to Father Claudius Acquaviva, who was then General of the Society, November 25, 1585. Before the end of his novitiate, he passed a brilliant public act in philosophy, having made his philosophical and also his mathematical studies before his entrance. He had in fact distinguished himself, when in Spain, by a public examination not only in philosophy, but also in theology, at the University of Alcala. He made his vows November 25, 1587. Immediately after, he began his theological studies. Among his professors were Fathers Vasquez and Azor. In 1591 when in his fourth year of theology a famine and pestilence broke out in Italy. Though in delicate health, he devoted himself to the care of the sick, but on the 3rd March he fell ill and died June 21, 1591. He was beatified by Gregory XV in 1621 and canonized by Benedict XIII in 1726. His remains are in the church of St Ignazio in Rome in a magnificent urn of lapis lazuli wreathed with festoons of silver. The altar has for its centerpiece a large marble relief of the Saint by Le Gros.
J. F. X. OCONOR
---
Enjoying this content?
Please support our mission!
Donate