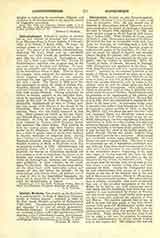 Click to enlarge
Albright Brethren, the (known as the EVANGELICAL ASSOCIATION); "a body of American Christians chiefly of German descent", founded, in 1800, by the Rev. Jacob Albright, a native of Pennsylvania (1759-1808). The association is Arminian in doctrine and theology; in its form of church government, Methodist Episcopal. It numbers 148,506 members, not including children, with 1,864 ministers and 2,043 churches, in the United States, Canada, and Germany.
FRANCIS W. GREY
---
Enjoying this content?
Please support our mission!
Donate