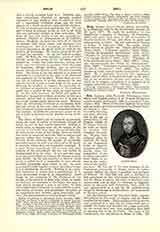 Click to enlarge
Belin; ALBERT (JEAN) French prelate and writer, b. in Besancon early in the seventeenth century; d. April 29, 1677. He made his profession in the Benedictine monastery of Faverney, December 29, 1629, and spent some time at the monasteries of Charite-sur-Loire, Nevers, and Paris as prior and subsequently as abbot. He was consecrated Bishop of Belley, February 14, 1666. His works, which were written in French, are: "Pierre philosophale" (Paris, 1653); "Talismans justifies" (ibid., 1653); "Poudre de sympathie mysterieuse" (ibid., 1653); "Poudre de projection demontree" (ibid., 1653); "Le voyage inconnu" (ibid., 1653); "Principes de la foi demontres par la raison" (ibid., 1667); "Preuves convainquantes des verites du christianisme" (ibid., 1666); "Emblemes eucharistiques, ou octave du tres S. Sacrement" (1647, 1660); "Les solides pensees de fame, pour la porter a son devoir" (Paris, 1668). He is probably identical with Alphonsus Belin, O.S.B., Prior of Charite-sur-Loire in the latter half of the seventeenth century, and author of "La verite de la religion catholique et la faussete de la religion pretendue reformee" (Nevers, 1683).
ALEXIUS HOFFMANN
---
Enjoying this content?
Please support our mission!
Donate