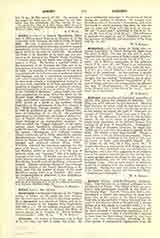 Click to enlarge
Achimaas.—(1) Father of Achinoam, wife of Saul (I K., xiv, 50).—(2) Son of Sadoc, the priest. He was a swiftfooted messenger in the service of David during the rebellion of Absalom. He brought from Jerusalem news of the enemy's movements, and, after the battle in which Absalom was slain, he was the first to reach the King with the news of victory. He was" a good man", according to David (II K., xv, 35, 36; xvii, 17 sq.; xviii, 19 sq.). This Achimaas is perhaps the same as one of Solomon's prefects, the governor of Nephtali, and son-in-law of the King (III K, iv, 15).
W.S. REILLY
---
Enjoying this content?
Please support our mission!
Donate