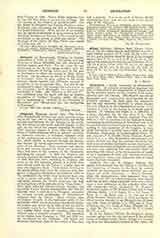 Click to enlarge
Abisai, 'abhishay, 'abhshay; Sept. `Abessa, `Abisai, son of David's sister Sarvia, and brother of Joab, a most valiant warrior (II K.. xxiii, 18, 19; I Par., xi, 20,21), and a faithful friend of David in his struggles against Saul (I K, xxvi, 6-9; II K, ii, 24; iii, 30), against the Ammonites, Syrians, and Edomites (II K., viii, 13; x, 9-14; I Par., xviii, 12; xix, 11-15), against Absalom (II K., xvi, 9, 10; xix, 21, 22; xviii, 2), Seba (II K, xx, 6), and the Philistines (II K, xxi,15-17).
A.J. MAAS
---
Enjoying this content?
Please support our mission!
Donate