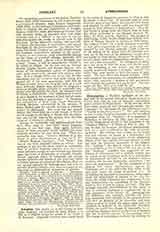 Click to enlarge
Athelney, the Abbey of, in the County of Somerset, England, was founded by King Alfred, A.D. 888, as a religious house for monks of the Order of St. Benedict. Originally Athelney was a small island in the midst of dangerous morasses in what is now the parish of East Ling. It possessed scarcely more than two acres of firm land; was covered with alders and infested by wild animals, and was inaccessible except by boat (William of Malmesbury). Here Alfred found a refuge from the Danes; here he built the abbey dedicated to our Blessed Savior, St. Peter, St. Paul, and St. Egelwine. He peopled it with foreign monks, drawn chiefly from France, with John of Saxony (known as Scotus) as their abbot. The original church was a small structure consisting of four piers supporting the main fabric and surrounded by four circular chancels. Little is known of the history of the abbey from the eleventh century up to the time of its dissolution except that the monks of Glastonbury attempted to annex it or have it placed under the Glastonbury jurisdiction. It was not a rich community. An indulgence of thirty days was given in 1321 for those who should assist in the rebuilding of the church, and the monks humbly petitioned Edward I to remit "corrod" for which they were unable to find the means of payment. The last abbot was Robert Hamlyn. With eight monks of his community, he surrendered February 8, 1540, receiving a pension of £50 per annum and retaining his prebend of Long Sutton. The revenues (26 Hen. VII) were £209. 0s. ¾d.
FRANCIS AVELING
---
Enjoying this content?
Please support our mission!
Donate