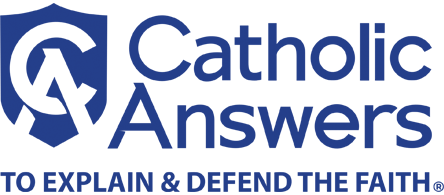 Father Hugh Barbour helps us get ready for the Feast of St. Michael with a reflection on angels. Who are they? What do they do? And how, without having bodies, do they get anything done?
---
Cy Kellett:
What is the deal with angels? Father Hugh Barbour is next. Hello, and welcome to Focus, the Catholic Answers podcast for living, understanding and defending your Catholic faith. I'm Cy Kellett, your host, and we've got the feast of Saint Michael coming up. Michael the Archangel.
Is he the highest angel? Is he close to the highest angel? Well, we'll talk about that. But we want to talk with Father Hugh about what is an angel in order to get a sense of who is Michael and what, in a practical sense, does Michael do for us? Because he is our defender, and we'll talk a bit about the Saint Michael prayer and all of that. But you can't talk about angels, especially with Father Hugh, without getting your mind blown just a little bit. These are unbelievable, just beyond our ability to comprehend, creatures. Every single one of them, even the lowest angel. So prepare to get your mind blown as we ask Father Hugh Barbour about Saint Michael the Archangel.
Father, I'm going to give you a really tough question as we go on but I am previewing it for you now, which is, I want to know this. I don't want you to answer this yet, but as we go along, teasing for the future, how does an angel experience reality if they can't see, hear, taste, touch or smell? And that's the only way we know it. Don't tell me now. I'm going to get to that, because the feast of Saint Michael is coming up. So first, I want you to tell me about Saint Michael.
Fr. Hugh Barbour:
Happily. I'll do so happily. Saint Michael is called Saint Michael the Archangel, is the sainted angel among the angels, which is the most venerated, or who is the most venerated, in the Catholic Church. That is, there are millions or maybe billions of angels. I mean, if there are billions of human beings, there are billions of angels. And so, consequently, he receives a special veneration which we don't really understand the reason why, out of all of these angels in their various orders and hierarchies, why he would be the one that would be chosen for this particular role, just like we don't know why our Lord picked Peter as opposed to some other follower to be the head of his church, or Saint Joseph to be his legal father on earth, or even the blessed mother. God looked on her lowliness.
So the choice of a person… And angels are persons. They're persons who are bodiless. They don't have a body but they exist as true spiritual beings. As Saint Thomas calls them, intellectual substances. They know and they love and they have that center of their being and power.
But he's the one of whom we have the most indication in the sacred scriptures and in the church's liturgy. And the other two are Gabriel, we're acquainted with from the Gospel of Luke, especially. And, of course, Saint Raphael from the Book of Tobit. But considering the number of angels there are, we have very little personal information about the angels as individuals, so it's an interesting case. Michael, we have the most because of the Book of Daniel and because of various traditions associated with Michael in the Old Testament. And, at least in the new, in the case of the Letter of Jude, there's one mention there, too, as well.
But the role he plays is a very important one. He's an archangel but he belongs, according to Saint Thomas, in any case, to the realm of the principalities. The three ranks, the three orders of angels, three hierarchies, and then within them, the different ranks that you have there. And so, we're used to some of those expressions. Seraphim, Cherubim, Thrones, Dominations, Powers, Principalities, Archangels, Angels. So, they're three groups of three. And the last three has to do with the care of the human race. And so, the tradition, I'm giving you Saint Thomas Aquinas. There are many other traditions about this because revelation is not explicit, and so there's a lot of theological reflection about the angels but not that much that we know for absolute certain.
So, Saint Thomas puts him as the highest of the angels of that third group, that is Principalities, Archangels and Angels, who have the care of the human race, either as whole societies or families or regions, however it might be divided. But that's the way that part of the angelic world is described. And so, he's the leader of the heavenly host as regard to the protection, defense, and guidance of God's people among the human race, in view of their eternal salvation. So, he's viewed as especially as protector of Israel, and then later on, as the protector of the church, since the church is the new Israel.
And so, in a way, you might say he's the patron of the Church in an external way, by way of defense against enemies, just like Saint Joseph was declared by Pope Pius IX to be the patron of the universal church, but in a more internal way in terms of a spiritual life and growth and holiness. And so, you have those two who give a father's care to the human race in a particular aspect.
So Saint Michael is, therefore, an angel invoked and venerated because obviously, if God has given him this role, to lead the protection of the part of the angels and defense of the human race, then his role is extremely powerful and efficient. So much so that, when you look, you can tell sometimes about a theological reality based on the errors that come up regarding it. And if you consider the case of Saint Michael, what happens if there are any heresies about Saint Michael? Well, there are some professed by-
Cy Kellett:
Yeah, because the son of God.
Fr. Hugh Barbour:
Right. Professed by the Jehovah's Witnesses and by the Sunday Adventists, and by the Mormons, where they hold that Michael is just the preexistent Christ. And you can see the easy jump they would make because he's the spiritual defender of the human race, therefore in a certain sense a kind of savior. So consequently, he would be identified with Christ before Christ appeared. Course, they hold that Christ is only a very, very, great spiritual being, the son of God meaning the highest of the angels. Now, that's the word the scripture. The scripture calls angels sons of God, and of course, our Lord would be the first of them but because he really is the son of God, by nature, not simply by an analogy or attribution. So the angels are called sons of God, and so it's not surprising that these errors would crop up, making Michael the Archangel a divinity, like God the son. Or like God the son.
Cy Kellett:
And so we know of him, or the revelation of him, is connected to his role. There's a certain way, though, in which reflecting on Saint Michael and relating to Saint Michael, and even having a feast of Saint Michael, is because he's the named leader. It's almost… Let me make an analogy. Like if I'm loyal to the Queen, Queen Elizabeth, I'm loyal to the whole country, to all of Great Britain or to the whole Commonwealth, or whatever. So in a certain sense, is that Michael's role too, to represent, by name, all those that are in part of that work in protecting us and keeping us?
Fr. Hugh Barbour:
Exactly, and very well put because the phrase which is associated with him is on his shield in much of the western Catholic iconography. It says, "Quis ut Deus?" Who is like God? Which is what his name in Hebrew means. Mi-Kai-El. So he is the angel who represents the angels who resisted the conspiracy of Lucifer and refused to abandon their obedience to God. And so, their motto and his name is, "Who is like God?" Like, who are we to follow, other than the one true God? And so, he exalts the supremacy of God and his power, and the importance of obedience to him, and fights against the rebellion of the fallen angels. And so there's that special sense in which he is viewed, as the Eastern liturgies call him, the [foreign language 00:08:39], the supreme general or the supreme leader of the angelic host in their battle against Satan.
Now, in the Eastern church, that was taken to mean that he was absolutely the highest of all the angels whatsoever. And that was not taken over in the Western Church because we took the theology of Saint Dennis, who is an Eastern father, wherein the very highest angels don't have earthly apparitions. They're just pure contemplatives, the Seraphim, the Cherubim, they just simply surround the word of God and the blessed Trinity with their worship, and they don't make appearances on earth. And if they do, it's through other angels of a different or lower order.
And so for us, in the Latin tradition, Michael the highest of those angels who have to do with the care of the human race, and therefore defending us against those angels who fell, who then in their fall, then attempted by their envy to make us fall as well, and succeeded. So that's our version. But nobody knows for sure. I mean, he may well be the very highest of all the angels. The [inaudible 00:09:43] at Lucifer may have been that one. Who knows? But these are things that are part of tradition, they're parts of the drama that we'll know the whole story when we actually know. But our Lord doesn't want his revelation to concern the angels, principally because that gets us distracted and the natural interest would take away from the deeper mysteries of faith, which are revealed, namely the Trinity and the incarnation.
So, even among the Jews, there was a practice that were developing a praying to Saint Michael and Saint Gabriel in particular, and the rabbis forbade it because they were afraid that they would begin to worship them as gods. And of course, the incarnation hadn't occurred yet, and the proper teaching of the church and the veneration of the angels and saints, but let's just say, his veneration was so great in Israel that Daniel says, "Michael the Archangel helped me." I mean, it's quite evident the angels are deeply involved in the actions and the fates of men.
And so, Michael's role is of a defender of the people of God, basically. Now that means, also, that in the tradition, that point at which need a special defense, that is the moment of death, our particular judgment when the demons will to try to accuse us and justify our loss, that he is there to defend us. That's why he's often shown with the scales because the Devil's trying to make an argument against our salvation, and he and our guardian angel, and most of all, our Lord, who is our advocate with the father, excuse our faults and explain them away, but in such ways as for is to understand how great was the spiritual battle over our own individual soul. That there were real demons that hated us and want to drag us down, and that we're continually helped and assisted by, not only our guardian angel, but also by Saint Michael, and finally, by the intercessions of the savior and all the other saints.
So his other role was one who brought or conducted the souls of the departed safely to their, either temporary fate, or eternal fate. That is either to purgatory or to heaven. And so, he's venerated that way in the traditional requiem liturgy of the [inaudible 00:12:01]. And then, of course, in a particular way, as I said, as a defender of the Church. And also, early on, as a bringer of healing. We think of Gabriel as being the angel of healing but Michael was much venerated at his shrines in the East for the obtaining of healings of the sick as well.
Cy Kellett:
Okay. So in modern times, I don't know how far back the prayer dates from, but it was given to us by one of the modern popes to pray the prayer of Saint Michael at the conclusion of Mass. So can you walk us through that? How do we end up with the prayer to Saint Michael and what are we doing when we're praying that prayer?
Fr. Hugh Barbour:
Well, it was Pope Leo XIII, and as the story is told… Again, the exact documentation about this is not in the decrees. The decrees simply ordered that the prayer be recited, but then there's stories as to how the prayer came about, that Pope Leo XIII had a vision regarding the state of the Church for the next 100 years or so and became aware of the idea that Satan and the fallen angels would be let loose in the coming century to fight against the Church.
And the vision, it involved something to do with Saint Michael and his hearing of the claim on the part of the Devil that he would be able to destroy the Church in so many number of years, and our Lord's response. And so, he wrote the prayer to Saint Michael as coming out of that experience, whether the prayer was directly inspired in his mystical experience there of the struggle between our Lord and the Devil when he was celebrating Mass or whether he composed it himself, but he was very keen on establishing that prayer to prayed after every low Mass. That meant every ordinary weekday Mass in the Catholic world, the priest should pray that prayer. And so, that was the norm until 1964.
But now, you see that prayer coming back in various places. And in the Diocese of Orange, for example, the bishop himself has decreed that the prayer should be said after every mass by the priest and people together, even if it is a Sunday Mass, not just a weekday Mass. And so, we see it reappearing, and again, it's a prayer of the Church in the conscious of the struggle with the powers of evil in the age in which we actually are living.
So, in that sense, Saint Michael's role is apocalyptic, that is, it points our attention to the fact that the events predicted regarding the last things in the end of the world are being worked out in our own time, even as they were worked out in other times as well. But we're very conscious of the fact that they'd certainly be worked out in our time. Whether or not it's the actual end, all of the elements are there, the spirit of the Antichrist, the opposition to true worship. All those different difficulties.
But it was Leo XIII who did that, and it was removed in '64, and then now it's gradually coming back here and there. Saint John Paul II prayed it publicly when he visited the shrine of Saint Michael at Monte Galgano in Italy. No surprise that that's the shrine nearest to Padre Pio's shrine, and the one to which was most devoted. Great devotion of Saint Michael there, where, in the fifth century, Saint Michael miraculously consecrated this cave as a church under his title. There's a whole story behind that. And it became a shrine ever after, and you can still go there and visit the place and venerate Saint Michael there.
Cy Kellett:
Okay, so I guess I would like to get just an idea from you of what it means to defend us in battle. So Saint Michael the Archangel defend us battle, be our protector-
Fr. Hugh Barbour:
Protection against the wickedness and snares of the Devil, right?
Cy Kellett:
Right. So let's say you have a person who, as you said, because every human being is hated by demons. But let's say this person is attempting to be a good and virtuous Christian person. And so, maybe, this person, because of their goodness, draws the particular attention of the demons.
Fr. Hugh Barbour:
Envy. Yeah.
Cy Kellett:
Okay. And then the demons attack this person. What is the nature of that demonic attack and what is the nature of the defense that the angels provide for us?
Fr. Hugh Barbour:
All right. Well, the demons can attack us under any aspect of our nature that is inferior to theirs. So they cannot attack directly our pure spiritual faculties, our power of knowing and loving, in the strongest sense, that is, the intimate depths of our soul where we are also just like them, immaterial, spiritual beings. They attack us through our bodily nature. But that comes very close to what we would normally think of as spiritual because that means our external senses, our five external senses, but also then, our imagination, that's based on our external senses, that's the internal sense of imagination. Our memory and the emotions that flow from those impressions on our senses, external, and then internal, and memory.
And so, basically, the senses and the passions, they can influence us most directly. Now, normally people don't experience demonic interventions through things that are externally sensible. That happens but it's not usually the case. Most of our being attacked or assaulted by the Evil One has to do with our internal life of emotion and imagination and memory. That's where the passions, in particular, because they can, just like a human being who might be tempting us, they can annoy us externally and stir up our feelings, because in our imagination, memories start to work because the person brings to mind these things. But they have to start from outside. They don't have telepathic powers to get into our imagination and memory and feelings directly. And that's the only thing that the angels and the fallen angels can do that we can't, because there's no barrier for them to deal with anything that has to do with physical and material nature.
Cy Kellett:
So they can entertain the imagination?
Fr. Hugh Barbour:
Right.
Cy Kellett:
With an angry thought or lustful thought-
Fr. Hugh Barbour:
Exactly. Right. Exactly. They can take the imagination and then immediately move it to the passion or heighten or point out certain aspects of objects that we know or remember, and stir up a certain passion regarding them. It's an instigation, you might say. An instigation. Not too different from the fact that they know now, when they're looking at different parts of our gray matter, and they zap something and then the guy that has the [inaudible 00:19:18] things on him can perceive a certain thing, like a tree or a apple or something. The parts of the brain that have the images attached to it. And then, immediately, if there's the image, then there's the feeling that flows from the image. Because in human nature, every form that we have, every sensible form or a form of understanding, it carries with it an incarnation or an aversion. It makes us want something or try to get away from something, either strongly or weakly, but it's there. And so the demons can try to incline us one way or avert us to another.
So, "Prayer and going to Mass is boring. I don't enjoy it. It's annoying." And that tape goes on and on, and on. And then, similarly, something we know is gravely wrong, we go, "Well, I don't know. Maybe I can watch this show. It's not that bad. We're not really watching it for the nasty scenes. We're really watching it for the storyline."
Cy Kellett:
For the good, uplifting parts. Yeah.
Fr. Hugh Barbour:
Interesting that you don't pick the shows that don't have any of that. But of course, sometimes-
Cy Kellett:
You don't know. Maybe I don't, maybe I do.
Fr. Hugh Barbour:
No, you, I mean, as in, one. Excuse me. All right.
Cy Kellett:
I know. I'm teasing.
Fr. Hugh Barbour:
But there you are. So they have a wide berth of harassment. Of course, they could only trouble us to the extent to which God permits it. So we always have to have a tranquil heart about it, that if we're enduring temptation, even when it seems like we don't even have the strength to endure it, that God is allowing this to happen for some reason that's for the good of our soul. Especially because our reliance on him and our recourse to Saint Michael, and what we haven't discussed, our own individual personal guardian angel whom all of us have from our birth, that struggle is a more glorious thing than just never having had any struggles at all, if you know what I mean.
Cy Kellett:
So if the primary attack of the demons is to engage my imagination and try to arouse my passions…
Fr. Hugh Barbour:
Right. Feelings. Yeah. Emotions.
Cy Kellett:
… So, what's the defense that say, Saint Michael, or my guardian angel, or any other angel, might provide me against those things? What are the angels doing? What am I to expect from the angels?
Fr. Hugh Barbour:
Well, first of all, by way of defense, the angels can make use of is we can, not only our natural powers, but also our supernatural things that convey grace, the life of the sacraments, the sacramentals, the power that comes from the life of heaven, and the vision of God that all the angels possess at all times. Remember, our Lord says of the little children, "Do not scandalize any of them because their angels behold the face of my Father who is in heaven." That is, each one of his little children, which means, really, us. Ultimately, all of us have an angel who sees God.
Well, the demons don't and they don't have any supernatural powers at all. They have superior powers over material nature to trouble us, but they're not as powerful as the angels or the life of grace, the sacraments, or even the sacramentals. So consequently, fighting against them is something that is brought about… They tempt us on the level of our fallen nature. They can use natural means. So they can stir us up and distract us, or trouble our passions or our imagination. They can do all of that, wear us out that way. But they don't have any special magic potion that they can use to make us unbearably lustful or unbearably angry, or whatever. They just have to work with what they find in us naturally, which may be a whole lot, based on our sins or defects or passions.
That's why the control of our imagination, the principle duty of our Christian moral life is to have such a life of prayer and consideration of heavenly things, that we are progressively freed from the tyranny of our thoughts and memories and passions and imaginations. That is, we need the therapy of our inner life, we need our emotions to be purified and cleansed, not just because they're dirty or sinful but because the Devil will use them as a way of discouraging us in our Christian walk.
So, the means we have of fighting the Devil are much more powerful in the long run and in and of themselves than anything the Devil has on us. And we have to keep that in mind. That's why the Saints, when they fought the Devil, they were not trembling with fear. They were saying [inaudible 00:24:00] was being harassed by the Devil when he was in an inn and they were making these loud noises and everything and whatnot, and so, he went to the bottom of the stairs and he shouted up and he said, "Look, if you've been given power by God to hurt me, well then just do it. Otherwise, be quiet."
Cy Kellett:
Yeah. That's trust right there. He knows-
Fr. Hugh Barbour:
And the Devil was humiliated and just stopped.
Cy Kellett:
Yeah. Right.
Fr. Hugh Barbour:
And that's the attitude. Of course, there are very few who are quite so holy that they are constantly harassed by visible signs. That means the demons are really frustrated. And for them, remember, when they're forced to reveal their activity, it's already a big humiliation. It means that they're already on the way to being defeated because they work by stealth. They don't work by being visibly revealed. They don't normally work like boogeymen.
In the case of our Lord, for example, it was because his interior life was so completely free of any evidence for the Devil, of who he was or what he was doing. He had such a serenity and balance of his internal powers that the Devil couldn't get any information out of him. So he had to tempt him in the strictest sense to try to get evidence of who he was and to see if he was someone that could be corrupted or not. And our Lord didn't give him any help at all. He left him as perplexed, when our Lord left, as when he began, because he just answered his scriptural temptations with scriptural answers and then the Devil had to leave him. And then the angels administered to him.
And so, that's the model that we want to look at, that because when the Devil tempts us, it means he's trying to find something out, that's what Saint Thomas teaches. Temptation is testing. He wants evidence that he's going to win in the end. They're desperate. They want us to be eternally lost. They don't know what our fate's going to be. They want us to be eternally lost. They don't know what our fate's going to be. They don't know if right in the last minute, [inaudible 00:25:49]'s going to swoop down with an efficacious grace of repentance and save us, no matter how bad we've been. Which is, I hope, is more and more likely as life goes on.
So they are looking for some kind of reassurance. They're desperate, grasping. And so, if they get us to fall into a sin and so we failed the temptation, actually, we've given them a little more evidence that maybe we'll be lost. But that should give us more eagerness to resist and keep resisting even when we're fallen because we don't want to give them the satisfaction of this show that no one knows the outcome of.
And so, consequently, our means of protecting ourselves in a prayer, use the sacramentals, especially holy water, which the Saints say they really just don't like at all. And if you get a Devil that's resistant to holy water, there's something else going on by God's power that's going to be revealed later on. But the fact is, we should use holy water every day, in our homes, as we do in our churches, because the Devil is annoyed by this indication of our redeemed status, of our being adopted sons and daughters of God, of having our sins forgiven.
The original sin, which is the one he instigated that brought us to this situation, it repulses him. Remember, these are intellectual beings. They know the truth of our faith and they just can't stand it. It drives them away because they're not just emotional, messy, evil people like we want to imagine criminals or people in movies or whatever. They are hardcore, cold, spiritual beings that have lost the love of God and just have a pure hatred for anything that's true, good or beautiful. And so the more true, good, and beautiful things, especially on the supernatural level, the sacraments, the holy water, blessed oil, miraculous metal, your rosary, scapular, all those things. Those are not objects of superstition. They are real ways of continuing in our human mode to emphasize how different we are from the angels. We're actually helped by these little weak, material things that they don't need and they despise.
And on the other hand, we overcome them by that. And that's the logic of the incarnation. They were overcome by the sacrifice of flesh and blood, and this is just, to them, just an outrage. It's an outrage. It's a true defeat. And so, we should never be just spooked and constantly just worried about the Devil. We should recognize it, as Christians, we have overcome the Devil. We can invoke God confidently, like in the Saint Michael prayer, and in the liturgy of the Church, Saint Michael's day, on the 29th September, at the Feast of the Holy Guardian Angels on the 2nd October, and our guardian angel prayer that we can say every day, very popular in traditional prayer, known to practically anybody with a Catholic formation. All these things are means of being assisted against the fallen angels, even though we haven't talked a whole lot about the ones that didn't fall. But anyway. There are a lot of those.
Cy Kellett:
We did.
Fr. Hugh Barbour:
We did. A fair amount.
Cy Kellett:
Well, I have to say, I find it very edifying, extremely edifying, and inspiring, and fills me with hope to hear you talk about the supernatural power of the angels, and also, the supernatural power of these material things because we're material beings. It's very… You feel better when you think about all these angels on your side. You feel better.
Fr. Hugh Barbour:
Yeah. Well, there are tons of… And we each have one from our birth. I just was going to… The one little line from the Catechism, in case anyone is wondering whether that's really something we're supposed to believe, how that is-
Cy Kellett:
Yes. Right. Right. "Do I have to believe that?"
Fr. Hugh Barbour:
"Do I have to believe that?" Okay. "Is that defined? Is that a dogma?" Well, here. Of course, [inaudible 00:29:39] dogma. But let's just say, in the Catechism, which is a reliable guide to the Catholic faith, as Pope Saint John Paul II has pointed out, a reliable guide, says, "From its beginning until death, human life has surrounded by their…" That is, the angels, "… Watchful care and intercession." Quote, "The side, each believer, stands an angel and shepherd leading him to life." And that's a quote from Saint Basil the Great. "Already here on earth, the Christian life shares by faith in the blessed company of angels and men united in God." And that image of the angel as a shepherd of human beings is a very popular one among the fathers. We're the silly sheep that need our smarter elder brothers in the spiritual world to help us.
Because we're the lowest rank of spiritual beings, and they are billions of them in the higher ranks, but they love us because they love the glory of God and they love the truth, and they are amazed by the mystery of faith. They adore the incarnation. And they're happy to adore God who actually possess a nature lower than theirs. I mean, think of it. This is what the Devil couldn't bear, and they love this. So we have every reason to trust in their defense.
Cy Kellett:
And you have an icon of Michael there that you wanted to share?
Fr. Hugh Barbour:
Yes, I do. Yeah. This is over my desk. [inaudible 00:31:02].
Cy Kellett:
For those who are watching on video.
Fr. Hugh Barbour:
It's a beautiful icon of Saint Michael the Archangel which I obtained in Belgrade in Serbia. It's painted by a Serbian monk. It's a real thing. And it's a beautiful icon and it represents Michael in the traditional Byzantine mode. Sometimes in icons he's shown in his military gear, the way we often see him in West. But more traditionally before, he's shown as a high court official in court robes, carrying his wand as a messenger, and the filet, which is around his head, and then the orb, which has on it, the Greek initials for Christ the righteous judge.
So in this icon, he is coming at you. The filets in his hair, which are going in the air, and the orb represent extreme velocity in iconography. We tend to think of icons as being just really fixed. But, to the viewer in the Byzantine world, representing an orb means representing something that's going really, really fast. And the filets, which are flapping the air in his hair, indicate that too. And so he's coming at you from the icon, bringing the message of the coming judgment, Christ the righteous judge, and then also, for his protection of his church. So that's the beautiful icon of Saint Michael. The story behind how I got it but we don't have all the time in the world. So that's for another time.
Cy Kellett:
Okay. It's beautiful. Thank you.
Fr. Hugh Barbour:
Yeah. Yeah. It's a real thing.
Cy Kellett:
Well, thank you for the whole discussion. I love talking about the angels. I love when you talk about the angels. May we have your blessings, Father, before we go?
Fr. Hugh Barbour:
Certainly. [foreign language 00:32:50].
Cy Kellett:
Amen.
Fr. Hugh Barbour:
[foreign language 00:33:03]. Not just you, but everybody.
Cy Kellett:
I have to admit, I am one of those people for whom it is very difficult to talk about angels and I have to constantly just trust what Father Hugh was saying because I think, in images, in metaphors, and an angel is a disembodied, not embodied, not enfleshed spirit. What is that? What do I think about that? I find myself very limited on it, and after I'm done with this podcast, at the very end, we threw in a little more discussion with Father Hugh on it if you really want to get into the mind blowing stuff. And I'm still processing all of that.
So I just want to thank you again for joining us here at Catholic Answers Focus. I'm Cy Kellett, your host. Remember to subscribe to Focus on Apple Podcasts, Spotify, Stitcher, or wherever you get your podcasts. It's free, of course. Share it with other people. And please, leave us that five star review, your comments. They really help to grow this podcast. You can send us an email, and folks have been doing that. Thanks for people who have been sending us ideas for future episodes. Our email address is focus@catholic.com. Focus@catholic.com. Also, if you're watching on YouTube, don't forget to like and subscribe. You can support us by going to givecatholic.com, and your support really does make a difference. So, I hope you'll make that visit to givecatholic.com. Once again, I'm Cy Kellett, your host. This is Catholic Answers Focus. We'll do this again, God willing, next time, right here.
Father, wait, don't take those off. Keep those on. I told you, I was going to ask a bonus question. How, if the angel has-
Fr. Hugh Barbour:
The angel. Please. You're a public speaker. The angel. Definite article for an open vowel. The angel. Go ahead.
Cy Kellett:
Well, I'm talking about, say, a particular angel, is what I meant to ask.
Fr. Hugh Barbour:
I know. I'm just giving you a hard time.
Cy Kellett:
Okay. So, a particular angel has none of the things that we associate with our acquisition of knowledge, seeing, hearing, tasting, touching, smelling. So how does an angel… I was going to say, the angel, this angel. How does this angel experience reality? How does this angel come to know the reality around?
Fr. Hugh Barbour:
Well, this is true, and it's a very important point, and it shows the power of their knowledge and why, as far as their knowledge goes, they never make a mistake. They don't know anything about making mistakes in judgment if it's something that's proportionate to their powers of knowing. It's quite amazing. They do not err in their judgments, in their own field of competence. They are right there.
So how is this? We depend on our external senses, as you mentioned, for our knowledge. But what happens in us is that our external senses, touching, tasting, smelling, hearing, seeing… Those sense impressions are collated by us internally by what's called the common sense. That's not the common sense that we normally use the term for. It means, that sense power which unites all the five external senses into a single percept.
Cy Kellett:
I got you.
Fr. Hugh Barbour:
One or more of the single senses united into a single percept. So we have an image in our mind that includes all the things about the object that we have sensed, maybe all five senses or three, or whatever. And from that image, which begins with just an individual, sensible thing, our intellect, because we do have a powerful… The power within, we have a spiritual soul, which therefore requires that we have an intellect… Is able, by virtue of its immaterial nature, that is, it's not made of material things. It's not physical. It's not a sensible object. But to, you could say, elevate that sensible image into something that becomes an instrument of the intellect to impress upon itself, and another aspect that image, but in a spiritual way.
So the intellect generates a spiritualized image of the material image. And so, what's called, agent intellect, which is our real, immaterial intellect, it implants or informs the possible intellect with the nature, or the essence, or the image, or whatever you would like to call it, of that sensible image. And that image, since it's not received into matter, is universal. See, any, and the form of man, the human nature in me is just my humanity but it's not all humanity. But that nature, elevated, so that someone sees me as, that's a man, that's a human being, that is not received into any one individual, so it can be understand universally. And that's the beginning of our ability to reason about things and think about things because we don't have just individual sense perceptions.
Well, the angels, that's the explanation for us, and of course, those images beget inclinations so that we can love or avoid the things of which we have intellectual knowledge, and we can begin to reason. And of course, ultimately, the first concept we have is being. We know that from Saint Thomas and all that. There's a lot of philosophy behind all of that. Although, our notion of being starts with material being, of course. Composite beings made of matter and form.
But anyway, for an angel, an angel is given at the instant of his creation those forms, intelligible forms, whereby he understands everything that he is meant to understand according to his nature. So they are created with their knowledge so that their identity and their level of knowledge are right there together. We don't know what makes Michael, Michael, as opposed to Gabriel, Gabriel, because each angel's a different kind. We human beings, since we have bodies, we're one kind and many individuals. But every angel would be like being the entire human race in one individual. Like that.
That's why our Lord is so similar, then, because he's the head of the human race, and therefore, represents us in a way that no other human being could do because he's the son of God. So they have all their natural knowledge perfectly from their creation. And so therefore, they do not err in any judgment regarding natural things that God has created that they know. But they don't depend on external influences for that.
And they can communicate that knowledge to others, to other angels, but if another angel doesn't have something that they have, they can communicate it. And for us, they don't give us directly their knowledge. Because if we were given the form whereby, say the angel that has the care of dogs, maybe there's an angel that has the care of the entire kind of dogs, species of dogs in the universe, that angel knows all dogs by one single concept, we would say, one single form. He knows them all. But he knows them perfectly, and even in their individuality, to that one form, whereas we can know dogs in general by the concept of dog but that concept does not have the power for us to know each and every dog individually.
So an angel's knowledge is comprehensive. It knows every individual of the kinds that it knows. So it's extremely powerful, and that's without the possible defectibility of getting the knowledge from outside of it. So their knowledge is extremely accurate and on a level of what they've been given in their creation. And so, consequently, if it were to be conveyed to us, it would just simply confound us, the vision of the form of dogness, including all dogs, that an angel would have if he is ever in charge of dogs… And the scene from the Book of Tobit, there seems to be some connection between angels and dogs… And would be overwhelming for our intellect, completely overwhelming. We would not be able to make it out. We would just be fuzzy.
See, this is something which has brought… There's a beautiful novel by Charles Williams, who was one of the inklings, called the Place of the Lamb. And he has this idea of the angelic forms breaking out in creation. And of course, it's beyond human comprehension. What we don't realize is that if we were to have the direct knowledge of the essence of any material thing, direct knowledge, it would be like some kind of divine or mystical experience, because our intellects can't take in something of that breadth. That's why if we saw our soul in a state of grace or saw the essence of an angel, we could think it was God. We could find out eventually that it wasn't because eventually we would find out it wasn't.
But our knowledge of anything just insofar as it is in its own nature is made by God in its total perfection, so that when you know a rose, you know all roses, and every individual rose that ever existed or ever will. Not necessarily possible roses, that's a different question. So that kind of knowledge, if we were given the knowledge of the rose like that, our mind would just go blank. It would be the cloud of unknowing, but not about God, but about a creature. And that's an important point, that the dignity of created realities is so great that God has put angels in charge of governing these things, and their knowledge is for their own activity.
So when they enlighten us, they don't just zap us with a new idea. They can't do that. Our mind is not proportionate to that. It would be like trying to teach your dog to discuss Plato. But it'd actually be less extreme than that because we still have an intellectual nature, but the fact is, we are helped by the angels because they're able in seeing the contents of our imagination. They can see how the contents are arranged or not arranged. Deranged. And so, consequently, they can point out or enlighten us, or give us the idea of what order in which things ought to go in order for us to think about something that would match, also, the appropriate emotion so that we'll stay on track.
So they tempt us, in a positive way, by getting us to notice that and then don't notice this. Distracting or ordering us, but actually not distracting but actually keeping us on track. And that's the way they do it. They fortify our powers to assisting us in our senses and understanding and the concepts that are generated from our senses. But that whole path is illuminated. Our intellect has its own light but they can fortify the light. They can turn it up and clarify certain things, or make different contrasts appear so that we'll be able to see things more clearly. But they don't share with us their own particular concepts because we would not be able to get that. It would be too much for us.
There is a great scene in Charles Williams' book where this buy who collects butterflies has a perception of the eternal form of butterfly and just drops dead. He's a Christian writer but it's showing us that if we were able to see what our participation in being actually is, in proportion to our mind, we would die. And that's the biblical theme. We'll drop dead if we see the living God. And whereas angels won't because they have a spiritual nature, which is able to understand how those things work. But ours is a spiritual nature that is embodied and it depends upon the body for its operation. So that's why, for us, the resurrection is so important. Because before, between after death and before the resurrection, we don't have any new sources of knowledge, unless God gives it to us directly, which he can do, of course. God can do anything by himself that he does through secondary causes.
Cy Kellett:
I've got to let you go because we kept you too long. But thank you, Father, thank you for answering my bonus question.
Fr. Hugh Barbour:
Okay. Was that sufficient?
Cy Kellett:
I'm going to have to go. I'm going to have to listen to is 20 more times to know whether it was sufficient or not.
Fr. Hugh Barbour:
Okay. Thank you. Okay. Good.
Cy Kellett:
I'll just keep reviewing it until my mind is enlightened. Bye, Father.