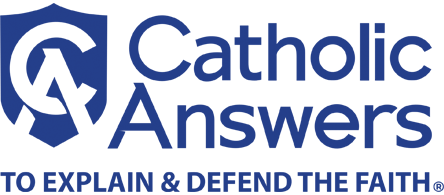 Tik Tok seems pretty sure that the God of the ancient Hebrews had a wife, an idea that perhaps would debunk the Jewish story of covenant with the One Lord God. We asked Jimmy Akin, author of The Bible Is a Catholic Book to evaluate the merits of the whole "God had a wife" idea.
---
Cy Kellett:
Senior apologist, Jimmy akin. Thanks very much for being here with us on Catholic Answers Focus.
Jimmy Akin:
My pleasure, Cyril Kellett, host of Catholic Answers Focus.
Cy Kellett:
Also, I should say, host of Jimmy Akin's Mysterious World. I should have added that. And here's one for you. The internet has a thing called TikTok, which you may be familiar with.
Jimmy Akin:
I've heard of that. Yeah.
Cy Kellett:
Yeah. I'm not really a TikTok-
Jimmy Akin:
It's a clock, right?
Cy Kellett:
Is it some sort of… I'm not going to pretend like, all right. So it's one of those, you share your little video. I don't know the difference between that and Instagram or Vine or any of them, but basically you get to have your say. And one of the things that people have been having their say about over on TikTok is that Yahweh, the God of Israel, had a wife. And I sometimes feel like there's almost, like this is something I maybe ask you about before the end of the show. Is there some named part of the human psyche that says we love new and innovative ideas? Like I just want to be the person who has the new. Not necessarily is it true or not, but this seems to be the new idea, that Yahweh had a wife. So help me out there.
Jimmy Akin:
Well, okay. So the situation is represented differently by different folks. And in particular, there's a scholar on YouTube who has put out a couple of these videos, which I've seen. And why don't we give the listeners a taste of one of the things he says.
Cy Kellett:
All right, let's give them a clip there, Darren.
Tik Tok Clip:
Asherah worship, recognition of Asherah as the consort or wife of Yahweh was 100% normative prior to the reign of Josiah, his campaign of cult centralization, and then the events of the exile. We have no text from the Hebrew Bible we can confidently date prior to Josiah that marginalize or vilify Asherah. They all date to Josiah or the exilic period, such as the two texts mentioned by that creator. They try to rewrite earlier history and earlier traditions in order to vilify Asherah. An example, the contest of Elijah with the priest of Baal mentions Asherah's priests in the very beginning. And they vanish from the narrative because they were a later addition to the text.
Cy Kellett:
All right, so there's a lot. First of all, Josiah, one of the kings of Israel, a king of Israel in the 600s BC. So what do you make of that argument?
Jimmy Akin:
Well, so he's got a bunch of presuppositions here and you can kind of, if you're not someone who reads in this area a lot, it may not be entirely obvious what he's claiming. But basically he's proposing a view that holds that the books of the Bible as we have them were written at a later date than is commonly understood. And he's saying that there was an effort that originally the Israelites worshiped a pantheon of gods, including Yahweh and Asherah. And that then at some later date, this became marginalized. And King Josiah in particular instituted or religious reform that was monotheistic, that just wanted to focus on Yahweh alone. And this is a narrative that you find in some scholarship, but it is not the picture that we find in the Bible itself.
Jimmy Akin:
Now, it's certainly true that there were Israelites who were polytheists. Just read the Old Testament. The prophets are constantly railing on polytheism and telling the Israelites that they're messing up and they're going to cause problems because they're going after other gods instead of sticking with the God that was their traditional patron, who was also the creator of the universe. And so he's dealing with a revisionist narrative, he's advocating a revisionist narrative that doesn't actually correspond to the biblical text.
Jimmy Akin:
Now there are passages in the Old Testament that refer to additional celestial beings like Baal. Baal would be the most famous, and Asherah and Anat and various other Canaanite deities. The question is how do we explain these texts? Now, according to the biblical narrative, what explains them is that originally God created the world and mankind and made himself known to mankind. And in particular, he made himself known to Abraham. But Abraham came from a polytheistic culture. He came from Ur of the Chaldees, which is over in Iraq. And God revealed himself to Abraham and Abraham began following God. And then God had a special relationship with Abraham's descendants. And we go through the Exodus experience down in Egypt.
Jimmy Akin:
And all along the line, there were temptations for the Israelites to worship other gods because they were surrounded by other peoples. I mean, the Egyptians had gods by the truckload. And even during the Exodus experience, we know because the Torah talks about it, that there were Israelites who were worshiping goat idols. But nevertheless, there was this orthodox correct stream of Israelite religion that focused on the one true God and not on these other gods. However, there was also a cultural matrix that the Israelites found themselves in of people who did worship other gods. And so there was kind of a hybrid situation between the worship of the true God, Yahweh, and the worship of these other gods.
Jimmy Akin:
And so the traditional and historic understanding of the matter is that there was normative Judaism that worshiped only the true God. And then there were renegade forms of Judaism that worshiped these other gods. And at times one or the other would have the upper hand. At times, according to the Old Testament, they even put idols in the temple itself in Jerusalem, even into the temple period. And then eventually they get taken away to Babylon. And when they come back from Babylon, this problem has been cured. Jewish people don't really have this temptation anymore to worship other gods. The fire of the exilic experience and being taken into other lands really cured them of this. And so after this Jews tend to be much more orthodox in their approach to their religion.
Jimmy Akin:
What this gentleman is proposing is something different. He's proposing that there wasn't originally this orthodox normative form of Judaism that focused on Yahweh, that it's a later edition. But the problem, or one of the problems, as I've mentioned, is that just doesn't fit the biblical text. This guy is having to pick and choose his evidence and dismiss things. You notice, for example, he mentioned that in First Kings 18 in the encounter of Elijah with the prophets of Baal, that initially there is a mention not only of the prophets of Baal but also the prophets of Asherah, who eat at Jezebel's table. And then they don't get mentioned later on in the text.
Jimmy Akin:
And his proposal for how to explain that is that it's a later addition to the text that was introduced to marginalize the worship of Asherah by making her associated with Baal and the enemies of Elijah. A problem with that is, well, if you've stitched in a reference to the prophets of Asherah at the beginning of the text, why don't you stitch them in later too? If you really want to marginalize Asherah, why don't you do that consistently? So I don't think that's a very good explanation. That's just him picking and choosing his evidence. And it's kind of grasping at straws.
Cy Kellett:
Because the prophets of Baal are actually humiliated by Elijah. Wouldn't you want to include Asherah in that humiliation if you were really trying to do that?
Jimmy Akin:
Exactly. So I don't think this is a very good explanation. You'll also notice that he says that we don't have any texts prior to Josiah or the Babylonian exile that marginalize Asherah. Well, okay, number one, that presupposes his dating of these events. Also, even if you grant his dating, we don't have any texts before that time that approve of Asherah. So if you want to say this happened at a certain point in history, notice that they start talking down Asherah, they start trash talking her at a certain point. Well, if you want to say it was normative prior to that to worship Asherah, where's the text praising Asherah? Where are the texts that support that? You don't see that. So this is, again, just him picking and choosing. And if you pick and choose, you can make anything out of the evidence.
Jimmy Akin:
So I don't think it's a reliable methodology. And I understand that there are liberal scholars who take this position. But it's all very speculative and it's based on picking and choosing. So I don't grant the premises. Now, what we might do is talk about so like who was Asherah and what's this alternative worldview. So in the first place, Asherah is barely in the Old Testament. There are like 40 references to Asherah and 33 of them are clear references not to the goddess but to a ceremonial object that was used in connection with the goddess. They had what are sometimes called Asherah poles. And sometimes these might take the form of a kind of stylized tree, or they might take the form of a stone pillar. But they most commonly seem to have been upright wooden poles that were somehow used in pagan worship.
Jimmy Akin:
And until the 20th century, it was common to hold that these poles were just, that's what Asherah was. It was one of these cult objects. It was one of these poles. It wasn't actually a goddess. But then in the 20th century, we found a bunch of texts in Syria at a place called Ras Shamra. And the Ras Shamra texts are written in Ugaritic, which is one of the languages that was spoken by the Hittites. And they fill in a bunch of additional information. They tell us about the Hittite Pantheon, which was also shared in varying degrees by the Canaanites, the people who were living in Israel before the Israelites.
Jimmy Akin:
Well, they did have a goddess. Now, they called her Athirat. But Athirat, when you bring it over into Hebrew, would become Asherah because of the way the languages are related. And basically she was like the consort of the high god, El. El is just the Hebrew word for God. And the high god was called El and then lower gods were also Elohim. But the high god had this wife called Asherah. And she was the goddess of the home, basically. She was associated with weaving. She was associated with cooking. She was associated with doing housewifely things. And she was portrayed as the goddess who was the wife of the high god.
Jimmy Akin:
But when Hebrews got ahold of this concept, they began to, since they regarded Yahweh as one of the names of the high god, you had them beginning to associate Asherah as the wife of Yahweh. And these were renegade forms of Judaism. This wasn't the Orthodox form. But you have references to like Yahweh and his Asherah in the Old Testament. And originally, because so much of the time Asherah is used to refer to the cult object, the Asherah pole, it was thought that maybe this is just a reference to Yahweh and pole. But in light of the Ras Shamra discoveries, it's clear that no, a few of these passages aren't just references to the pole. They are references to the goddess. And so you did have some Israelites who worshiped Asherah as a goddess. You also had them worshiping Baal.
Jimmy Akin:
Baal was the storm god. And he was in the Canaanite Pantheon kind of the second-in-command. You had the high god, El, and then Baal served as his regent. So El is kind of retired and not taking an active role in things anymore. And so he is letting the storm god run the show. Well, the Orthodox Israelite response to that was to say, no, it's all Yahweh. And so what you find in the Old Testament is not only references to El as the high god, but you also find references to El or Yahweh with all of the Baal imagery transferred to them to make it clear that no, there is no separate god that is serving as regent. There is just the one God who's doing the whole thing. And so you find biblical authors referring to Yahweh, or El, as in charge of the storm and having set the boundaries of the sea.
Jimmy Akin:
Another god was the sea god Yamm. And Yamm and Baal had had a conflict in Canaanite mythology in which Baal kind of set the boundaries for the sea. He triumphed over the sea. He pushed the sea back into its place and made it stay there. And in the Old Testament, we have that very thing referred to. Only it's not Baal, it's Yahweh who does that. Yahweh is the one who determines the borders of the sea and says, "You shall not go further. You shall not overwhelm the land," things like that. And so the biblical authors take the imagery that the Canaanites are using to talk about their gods and subvert it and attribute it all to the one true God.
Jimmy Akin:
And so you do have passages in the Old Testament that reflect the kinds of things you have in Canaanite literature, but they nevertheless are monotheistic. They attribute this all to God. One of my favorite examples of this is actually found in Genesis 1. Now, Genesis is a text that the gentleman we heard from earlier would date fairly late to the exilic times or after. But historically, it was attributed to Moses, who would've lived, say, in the 1200s BC. I think the evidence supports it being written a little after that. I think the evidence supports Genesis being written around 1000 BC, around the time of King David and King Solomon.
Jimmy Akin:
But either way you go, in the first chapter of Genesis, it talks about how God is setting up the world. And he makes, among other things, the sun and the moon. But he doesn't call them the sun in the moon. He just says they're lights. So it says God made a greater light to rule the day and a lesser light to rule the night. Well, why would he do that? Why would he not use the terms for sun and moon? Like Shamash meant son and Sin meant moon. Or Yarikh would mean moon.
Jimmy Akin:
So why would he avoid the names? Well, because they were deities. There was a sun god, there was a moon god that people were worshiping. And so you said Yahweh made Shamash or Yahweh made Yarikh to rule the night, it would be interpreted as God made the sun god and the moon god. So the biblical author's solution to that is to not mention their names and just call them lights. And the result of that is the message becomes these are just lights. They're not gods. Don't worship them. And so you do have this interaction, but you have this much earlier, in my view, than the exilic period, this much earlier attempt to dethrone Canaanite deities and say, no, it's just the one God. He's unique. He's the creator. He did all of this.
Cy Kellett:
So when I hear you speak about that, I mean, one thing that I think that you are conceding there is that even in the ancient times, all the way maybe from the time of the patriarchs themselves, I don't know, all the way up until the exilic period, there would be a kind of competition of folk religion, different practices, different ways people understood their Judaism. So it wouldn't be unreasonable to say yes, there were probably Jews who worshiped Asherah. But that doesn't mean that Asherah is a god of the Jews.
Jimmy Akin:
Correct. It's just like today. We have the Catholic church, but not all Catholics are faithful Catholics. And in parts of the world, there are Catholics who synchrotize Catholicism with other religions. Like down in Haiti, you have voodoo, you also have Santeria where you have a mixing of Orthodox Catholicism with unorthodox ideas and worship practices. And the same thing happened in Israel. You had the prophets, and at least during various periods, the temple authorities supporting the orthodox view of we're just worshiping this one God. But then you also had a temptation to worship other gods because of the mixing with the Canaanites, which is one of the key themes in the Old Testament is how Israel needs to be distinct. It needs to not follow the ways of the people around it. But they were in this cultural matrix and they were tempted to do that. And some of them did.
Cy Kellett:
I would think also for the person who comes across these things on TikTok and might not have a grounding in scripture or history, there would be, and I don't want to say that this is the agenda of the person speaking, but it might be the agenda of the person speaking. There's a certain way that this has a discrediting effect, an undermining effect, to say that the Jews' story of themselves, which is the story that God called Abraham, that they were a people who stayed in a relationship with this one god, that that one God is also the God of Moses who called them out of the land of Egypt, saved them, established them in the land, that all of this would suggest that's kind of one made up story that won. That's not really the true history of the Jews.
Jimmy Akin:
Yeah. There is a subtext to this kind of discussion that is transgressive. It's like, oh, let's be naughty. Let's talk about this other stuff. And I'm sure there are scholars who are sincere and convinced of their views, but there's also this transgressive subtext that also is present in this and that especially comes out on social media. And I can't say in this particular gentleman's case what his motives are, but he does come across as way too definite and way too adamant in proposing his views. The evidence just does not support them in that way.
Cy Kellett:
And so, as Catholics, would we kind of be required to accept the traditional view that Abraham was indeed called by God out of the land of the Chaldeans and that that God stays in relationship with the Jewish people. Sometimes they're faithful, sometimes they're not, sometimes some are faithful and others are not. But that we as Catholic Christians accept that that story in its essence is true. That actually happened in history.
Jimmy Akin:
Yeah. The core of the story is definitely true. God did enter into a relationship with the Jewish people. They had varying degrees of adherence to him. But he really did make a covenant with the Jewish people. He really did enter into a special relationship with them. And the rest of this is not something that we need our faith threatened by because the Old Testament acknowledges that there were Jews who were not faithful. And that's obvious if you read the Bible. It's obvious when you read the Old Testament. And so it's not anything we need to be afraid of. It's just a reality.
Jimmy Akin:
But what we don't want to do is exaggerate it and pick and choose the evidence to make it sound like this was normative at one point and that the true God did not have a special relationship with Israel and that's only something that came up later. The core of the story, that God entered into a special relationship with the people of Israel and then maintained that even when they were not faithful to him, that is true. And that is what the evidence in the Old Testament indicates. It's only when you pick and choose and say, "Well, I'm not going to listen to this. I'm not going to listen to this evidence that the text is presenting me with," it's only when you do that that you get this alternate rival story.
Cy Kellett:
I guess being transgressive is maybe the psychological, there is something kind of exciting about transgressing. Maybe that's why.
Jimmy Akin:
Yeah, I got the new secret thing that you don't know.
Cy Kellett:
Yeah. Okay. Before we finish, I just want to ask you about Josiah, who was mentioned, is kind of a key figure in what this scholar was saying. He is an important person in the history of Israel in the sense that he does have an agenda, which is to call people back to the proper worship of the one God.
Jimmy Akin:
Right. And that's something that… So Josiah became king as a very young person, and he did institute a religious reform. And he did understand himself as calling people back to the worship of the one true God. He wasn't trying to introduce a new concept. He was trying to restore faithfulness that had lapsed. And so that's also consistent with the overall biblical narrative.
Cy Kellett:
Jimmy, we're very blessed to have you. When we see these things on TikTok, it's really nice to have somebody, we go, oh, we could ask Jimmy about that. And I appreciate that you take the time to do that with us here on Focus.
Jimmy Akin:
My pleasure.