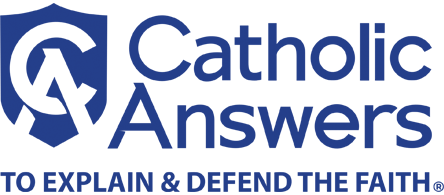 Every so often the debate over Mary having other children comes up. Tim Staples, author of Behold Your Mother, joins us to debunk this claim.
---
Cy Kellett:
Tim Staples, Catholic apologist. Thank you for being with us on Catholic Answers Focus.
Tim Staples:
It is great to be with you, Cy Kellett.
Cy Kellett:
I stress Catholic apologist because I want to challenge you a bit on a Catholic belief.
Tim Staples:
Uh-oh. Am I in trouble?
Cy Kellett:
I'm going to challenge you with the Bible, and this just is a passage of the Bible that seems so clear and seems to have such an obvious, indisputable meaning and yet Catholics dispute with it. So, I want to just read it to you. It's from Matthew's Gospel, chapter 13, starting with verse 53: "And when Jesus had finished these parables, he went away from there, and coming to his own country, he taught them in their synagogue so that they were astonished and said, 'Where did this man get this wisdom and these mighty works? Is this not the carpenter's son? Is not his mother called Mary? Are not his brethren James and Joseph and Simon and Judas? And are not all his sisters with us? Where then did this man get all of this?'" Brothers and sisters of the Lord.
Tim Staples:
Man, it is a good question. I think this is a reminder for us as Catholics, for all of our listeners, our viewers, that our Protestant friends have good arguments at times. So do members of other world religions and whatnot. One of the blessings about being an apologist professionally is the fact that we get to dialogue with so many of our Protestant brothers. Now, of course, I once taught that Jesus had brothers and whatnot. But I get to constantly talk with some of the great minds in Protestantism and dialogue with them. I've been involved, as you know, Cy, in ecumenical dialogue, even being invited to the Vatican to speak at an ecumenical conference before. Just in our day-to-day at Catholic Answers, dealing with pastors as well as the average Protestants, man, you come to really respect it's easy to get in our bubble as Catholics and say, "Oh boy, isn't that a terrible argument," right?
Cy Kellett:
Yeah. Right.
Tim Staples:
Well, you'd sit down with some of these PhDs and master's degrees, pastors, and whatnot, and you find, "Hey, these guys do have some good arguments." Now, of course, they're wrong. We know we're right when it comes to the definitive teaching of the church and the teaching of the church in general. But we really need to learn a respectful dialogue when we're talking with our Protestant friends or anyone about the faith, number one. But then, eventually, you do have to get to the nitty gritty. And that's what we're going to do now.
Tim Staples:
Yes. Matthew 13:55 explicitly gives us four brothers of the Lord: James, Joseph, Simon, Judas. That's the one my Protestant friends love to use there. We could go to Matthew 12:50 that mentions the brothers of the Lord as well, and sisters of the Lord. But here in Matthew 13:55, you got the names, man, and it explicitly says these are the brothers of the Lord. Well, one thing that's helpful here is to understand that the New Testament is not written in English. The New Testament is written in Greek, and it has a history to it as well.
Tim Staples:
In the Old Testament, which was mostly written in Hebrew and some of the latter books written in Aramaic, and so we have to understand Jesus is speaking in a Jewish context. He's a Jew. The apostles are Jews. And here in Matthew 13, he's got a crowd of nothing but Jews, right?
Cy Kellett:
Yeah.
Tim Staples:
So when they use the language of brothers of the Lord, they're not speaking English. In English, generally speaking, when we hear brothers, we think of uterine brothers.
Cy Kellett:
Right. That's right. Yeah.
Tim Staples:
I mean, that's what we think. Now, even in English, that's not necessarily the case because we do have a sort of wider semantic range for the word brother here, even in English. Because I mean, talk to our African American brothers and sisters, right?
Cy Kellett:
Right.
Tim Staples:
And you know, you're my brother, "Hey, brother." In a Christian context in general, we understand commonly, as Jesus says, "Call no man father in Matthew 23:9," that'll be for another episode. "Call, no man father." What? "You are all brothers." So we have a wider sort of connotation of the term brother, especially in English and in the United States because of our deeply rooted Christian roots. Jesus has us calling each other brothers. So brother, even in English, has a wider semantic range.
Tim Staples:
Well, oh my goodness, folks. In the New Testament, it is even more profound. Let me just lay out a… As I do in the book, by the way, my book, Behold, Your Mother, a biblical and historical defense of the Marian doctrines, I lay this out in detail. But here. Point number one. A lot of folks don't know this. There is no word for cousin in Hebrew and Aramaic. This is an important point to understand. In fact, in the Old Testament, because of the fact that they had no word for cousin, you normally would find either a circumlocution used, and that gets kind of awkward.
Cy Kellett:
My mother's sister's son.
Tim Staples:
My mother's father's son. Or my mother's brother's son as a cousin. But again, that becomes cumbersome. So over the centuries it became just brother, and you called extended relatives brothers. It was common.
Cy Kellett:
Can I ask you two questions about that?
Tim Staples:
Sure, sure.
Cy Kellett:
One thing you didn't say, but is it relevant that Matthew's Gospel is the most Jewish of the Gospels, that he uses Hebraisms-
Tim Staples:
Amen, brother.
Cy Kellett:
… throughout. He's speaking to Jewish people who…
Tim Staples:
Absolutely. In fact, that's one of the giveaways in Matthew's Gospel is all the Hebraisms he uses. He assumes his hearers have understanding when it comes to Jewish traditions and whatnot. But you're right. The Hebraisms are everywhere in Matthew. So yes, you could say Matthew is writing with a Jewish accent, right?
Cy Kellett:
Yeah.
Tim Staples:
He's so Jewish. If you go back to the Old Testament, for example, famously in Genesis 13:8, we have Abraham and Lot who we know, they're actually not brothers as in uterine brothers. They're uncle and nephew. But the idiom became so popular in Jewish culture that you called uncles, nephews, cousins, everybody was brother. That's the way it was. In Genesis 13:8, we see Lot and Abraham are actually uncle and nephew, but then in Genesis 14:12-14, they call each other brother. Now, this becomes very important for a couple of reasons. First of all, Matthew is recording an event that happened with nothing but Jews present. So of course they're going to be saying the brothers of the Lord because they were most likely speaking Aramaic that doesn't even have a word for cousin.
Cy Kellett:
This kind of brings me to my second question, which is this context is his town, which is an extremely small town. So-
Tim Staples:
It is.
Cy Kellett:
… one wonders about the raising of children. Like, it's not like a modern kind of nuclear family situation. It's a small group of people who are probably all related to one another-
Tim Staples:
Oh, my gosh.
Cy Kellett:
… in a little tiny town-
Tim Staples:
And everybody knows-
Cy Kellett:
… like, micro town.
Tim Staples:
Everybody knows everything about everybody.
Cy Kellett:
Yeah. Okay. That was my second question, was that the context is Jewish people living in a tiny rural town. And so the meaning of these things would've been…
Tim Staples:
Oh, yeah. Brothers obviously has this wide semantic range. But here's a key. The catechism of the Catholic Church in section 500 points out that if you go fast forward 14 chapters in Matthew's Gospel, for Matthew 13:55 to Matthew 27:56, and you find those brothers of the Lord, at least two of them pop up again because notice it's James, Joses or Joseph, James, Joses, Simon, and Judas are the four brothers of the Lord and his sisters. Well, in Matthew 27:56, we see the same James and Joseph mentioned again together, except this time their mama is mentioned. This becomes really important because now we have positive evidence here for the fact that these are not uterine brothers. Why? Because their mother is mentioned as Mary, or as Matthew's Gospel calls her, the other Mary.
Cy Kellett:
Oh.
Tim Staples:
When you have a cousin or a relative who's the mother of God, you get known as the other Mary. As the catechism says, she is significantly called the other Mary. Most likely, she is Mary of Cleopas, who we see in a parallel text in John 19:25 is named as the wife of Cleopas and the sister of Mary, Mary of Cleopas. So here we have this incredible sort of coincidence? No. We have evidence here that the brothers of the Lord, again, James and Joses being mentioned here, have a mama that's not married. So guess what? They're not uterine brothers. They are relatives, which really makes sense, again, understanding the Jewish context and such.
Tim Staples:
But I have to mention this as well because John Calvin in his commentary on the synoptic gospels actually gives us a great bit of information here, because he refers to this very text, the brothers of the Lord, he refers to Galatians 1:19 in a fascinating text where St. Paul is recounting… As he's writing Galatians, he's recounting that 14 years before, he had gone up to Jerusalem. This was roughly about two or three years after he had received his revelation and he started preaching in the synagogues and whatnot. He goes up to Jerusalem, basically to get approval, as he says, from the apostles who were before him.
Tim Staples:
He singles out this one guy, the Pope. So he says in verse 19, "I went up to Jerusalem to see Peter. But while I was there, none other of the apostles did I see except James, the Lord's brother." What John Calvin points out here is that this is obviously not using the word apostle in a wider sense, like you would see Barnabas in Acts 14:14 is called an apostle, but in that wider sort of sense. But he's talking about early on, 14 years before, when he first goes up to see the apostles. He's not talking about extended, you know, sense. But he's talking about the big 12 and in particular, Peter, that he's going up to get approval from.
Tim Staples:
So this is why, says John Calvin. That's a Protestant guy. Says John Calvin, that when he says, "I went up to see Peter, none other of the apostles did I see, except James, the Lord's brother." We know he's talking about the 12. Well, there's only two James's, and the first one is the son of Zebedee, who we know died early on in Acts 12:1-2. He was beheaded by Herod. So he's not talking about that, James. He was beheaded very early, long before Paul's conversion. But here, that James kind of gets rooted out. But I always like to point out, well, if that was that James, well, his father is Zebedee, not Joseph.
Cy Kellett:
Not Joseph. Yeah.
Tim Staples:
But actually it's the second James who is referred to as James the less in scripture. This is the James, obviously, that's being spoken of because there's only two James's. There's only one left. It's James the less. But what's interesting is you go to Luke 6:15-16 and his daddy is named as Alpheus. By the way, this is why many scholars believe that Alpheus had two names, which was common. You know, John, Mark, you know, Jude Thaddeus. It was common because we're looking at a culture that's at least bilingual. Often you had a Jewish name or Aramaic name and-
Cy Kellett:
A Greek name.
Tim Staples:
… a Greek name. So most likely this was the case with Alpheus. Cleopas. Most likely, Cleopas would be the Aramaic name and the other would… But the bottom line is John Calvin points out what is obvious. And that is that here we have James, who is an apostle, brother of the Lord, explicitly named. But not a uterine brother. By the way, in my book, Behold, Your Mother, I go on to show how all four of those brothers of the Lord are mentioned either in scripture explicitly, or in tradition as having a daddy that's not Joseph.
Tim Staples:
So what we do here right at the outset in explaining this to our Protestant friends is, and I know because this happened to me, folks… My buddy Matt Doula showed me this stuff 35 years ago and rocked my world. That's the fellow who went a long way toward bringing me into the Catholic faith, and in fact would later be my sponsor. But when he showed me this, what I found was that my strongest argument, and as we mention at the outset, Matthew 13:55. Come on, it's plain. Brothers of the Lord that I thought was so plain, all of a sudden I was disarmed. Oh, my goodness. My go-to verse didn't work. Where do I go from here?
Tim Staples:
Matt Doula started taking me down the Roman road, so to speak, to the Catholic faith. I just point that out because if we can respectfully do this with our Protestant friends, maybe a family member that's left the faith, just respectfully tosses, not in a sort of coercive way and gotcha kind of way, but give them food for thought. Think about this because as a Catholic, we believe in the inspiration of scriptures, and I have to go by the Bible here. Yeah. And let them think about it.
Cy Kellett:
Okay. The reason that this is contentious between Catholics and Protestants, though, is not about the brothers themselves. It's about Mary.
Tim Staples:
Yes.
Cy Kellett:
This is what does this mean about Mary?
Tim Staples:
Yes.
Cy Kellett:
So before we have to finish, I want to ask you then the claim that we're making is that Mary had no other children because she was perpetually virgin. And so is there positive evidence for that that we can [inaudible 00:15:36]
Tim Staples:
Oh, I'm glad you asked that, Cy Kellett. Well, and of course in my book, folks, I encourage you to get ahold of Behold, Your Mother, a biblical and historical defense of the Marian doctrines, because I give you eight reasons, biblical reasons, historical reasons for the perpetual virginity of Mary. Even more than that, I show you, I have a whole chapter called The Big Deal, which is why the perpetual virginity of Mary matters for your spiritual life as well. We should do that on another Focus.
Cy Kellett:
Yeah. That's a great topic.
Tim Staples:
Because… It really is.
Cy Kellett:
Yeah. Why does it matter?
Tim Staples:
Why does it matter? I show you why it matters. A lot of folks, a lot of Catholics don't even realize. But here's the point. In those eight, I just want to toss out a couple real quickly if I could.
Cy Kellett:
Sure.
Tim Staples:
Number one, positive evidence. In Luke 1:34, we all know the story. The angel Gabriel came down in verse 26 to announce the annunciation, to announce to the Blessed Mother that she is being called to be the Mother of God, the Messiah, who as we see, if you read down to verse 33, "whose kingdom shall have no end." He announces you are being called to be the Mother of God. Mary's response is telling. She says, "How shall this be, for I know not man?" This is a text that in my Protestant days, I just really passed over. I never did a deep dive on this. I never really thought about it. "How shall this be, for I know not man?" What's the implications here?
Tim Staples:
Well, the angel then responds. "I'll tell you how," now you didn't say that. That's my addition. "The power of the Most High will overshadow thee, therefore that holy one, which shall be born of thee, shall be called the Son of God." What's significant about this, as the great Saint Augustine said, and Saint Epiphanius, Saint Athanasius, Saint Jerome, powerfully in his letter against Helvidius on the perpetual virginity of Mary. They all make the same point. The question betrays the vow. In other words, that question that Mary asked makes absolutely no sense unless you understand she already had a perpetual vow of virginity. You say, "Why do you say that, Tim?" For this simple reason. If Mary was about to be married in accordance with the normal course, when an angel announced she's being called to be the mother of Messiah, she would've simply rejoiced and said, "Praise God. Me and Joseph are going to have-"
Cy Kellett:
A son.
Tim Staples:
… "A son who's going to be the Messiah." Because remember, it had not been revealed yet that the child would be born in a nonsexual way. So Mary would have no way of knowing. It would be impossible for her to know because this requires revelation. That would be her assumption. But she doesn't say that. She doesn't say, "Praise God, Joseph and I are going to have a child that's the Messiah." She says, "How shall this be?" And by the way, I have to mention the Greek verb there is estai not dunatai. It's not how is this able to happen, It's how shall this. She never doubted for a minute. In other words, she says to the angel, "How are you going to do this? Because the last time I checked, you got to have conjugal relations to have a child."
Cy Kellett:
And I'm not going to.
Tim Staples:
"And I'm not planning on that." Folks, there's no other explanation for why Mary would respond like this and for the fact that the angel would then explain that it's going to be through a nonsexual union with the Holy Spirit. Perpetual virginity of Mary. I can tell you, I have read, in fact, when I was researching my book, I read so many Protestant books, Protestant apologists, theologians on this point. The responses are, I'm sorry, just so bad.
Tim Staples:
For example, I've read one apologist. In fact, I quote him in the book here. He says, "Well, Mary and Joseph were engaged at this time. So there's no big deal here. Why do the Catholics get so up in arms?" She was engaged. She's saying to the angel, I'm not ready to have children right now in the immediate because we haven't consummated our union yet, or this person would say we're not married yet. So the Catholics are just making much ado about nothing. But see, there's multiple problems with that. Number one, it doesn't answer the essential question because the fact is she is not in a conjugal relationship at that time. And the angel does not say to her, "You're going to have a baby right now." [inaudible 00:20:45]
Cy Kellett:
No. In fact, she doesn't have a baby right now.
Tim Staples:
That's right. You're not going to conceive a baby right now. There would be no reason for her to believe that she's going to conceive a baby right now because that would involve a nonsexual union that, again, she had no concept of at this time. So the argument fails on multiple levels. But also you'll notice Protestant commentators will often say they were engaged. Cy, there was no such thing as engagement in the first century. In Hebrew culture, they were espoused. In fact, just back up to verse 27 and St. Luke just said Mary was espoused to Joseph. The Greek word, therefore, espoused is akin to what we in our New Testament theology call a ratified marriage.
Tim Staples:
See, this would've been the betrothal. At the point of the betrothal, you were married. In fact, so much so that in the book of Deuteronomy, the scripture says if a man sleeps with a betrothed woman, he is to be put to death. Why? Because he's committed adultery. Notice in Deuteronomy, it says a betrothed virgin, which means they are married at that point. It's a ratified union. It's not consummated yet. In Hebrew culture, of course, the betrothed husband would go away, build his home for her, and then they would have the marriage ceremony that Jesus talks about. The groom comes in the night. And actually that was the tradition. It was in the night. You'd have the groomsmen and the bridesmaids. And Jesus uses that as an image for the Second Coming quite beautifully in Matthew's Gospel, by the way, which his audience knew all of this tradition and he mentions it in John's gospel as well.
Tim Staples:
In John 14:1-6, "Behold, I go away to prepare a place for you. If I go away, I will come again to receive you under myself, that where I am, you may be also." That's the language of the bridegroom. So in Jewish culture, again, the man goes away. He then receives his wife. They're not about to become husband and wife. But he then consummates that union. So the bottom line is this text, once again, makes absolutely no sense if you understand Jewish tradition. They were already married. So imagine if it was your wedding night, Cy, my wedding night and that night somebody says to me, "Man, Tim, you're going to have children." Would I be all that surprised?
Cy Kellett:
How's that going to happen?
Tim Staples:
I know it.
Cy Kellett:
Because we know [inaudible 00:23:31]
Tim Staples:
Would I say, "Wow, how could that be?" We have a ratified union, even though my wife was still a virgin at that time. Guess what? We were married. So it would've been no surprise whatsoever. Again, the bottom line is it's the question that betrays the vow. That's just some positive evidence.
Tim Staples:
Do I have time to do one more?
Cy Kellett:
Yeah. You do have time to do one. Yeah.
Tim Staples:
Okay. Well, and by the way, folks, I have to mention real quickly as well, in Matthew 1:18-24, this knowledge becomes important as well, when, remember, Mary turns up pregnant and of course Joseph is distraught. Why? Because the Old Testament teaches that if your spouse goes with someone else and becomes pregnant, it's not an option. You must divorce her. It was not an option in the Old Testament. She then belongs to that other. In fact, in Deuteronomy 24:1-4, scripture says that even if that then husband were to die sometime in the future, she can never go back to her first husband. You see that in Jeremiah 3:1. You see that again in Deuteronomy 24:1-4. And this becomes really important for this reason.
Tim Staples:
Another positive example of how we can show in the New Testament Mary was a perpetual virgin. It's rooted in the Old Covenant that helps us to understand this text of Matthew 1:18-24 because remember, she turns up pregnant. Joseph says, "I will put her away privately." And most likely because he's revealed as the just man and he knows that even though the Romans had taken away the death penalty from Israel, they were not permitted to execute, there was such a thing as street justice in [inaudible 00:25:30]
Cy Kellett:
Yeah. We see that. Yeah. [inaudible 00:25:31]
Tim Staples:
You see that with people picking up rocks to kill Jesus, right?
Cy Kellett:
Yeah.
Tim Staples:
Joseph was mindful of that. Of, course he didn't want his beloved to be stoned to death. But if it gets around the neighborhood here, which was really easy.
Cy Kellett:
Yeah. Because it's not a very big neighborhood.
Tim Staples:
It's not a small town. Word gets around, her life would be in danger. So he says, "I will divorce her discreetly." He doesn't have a choice. He's got to divorce her. But he wants to do it discreetly. He doesn't want this to be known. It's at that point that the angel comes just in the nick of time and says, "Joseph, fear not to take Mary your wife, for the child conceived in her is conceived through the Holy Spirit." Notice Joseph immediately takes Mary into his home. Well, there is a backstory here, folks, in the Old Testament. Understand that because of the reality that, yes, Mary and Joseph were married, because of the reality that she now has been impregnated by another, according to the Old Testament, Mary belongs to the other. Keep that in mind. And let me tell you a story.
Tim Staples:
In 2 Samuel 16:1-3, we see the story. Actually, you got to read down a little bit more than verses one through three there. But 2 Samuel 16, we read the story of Absalom. Remember, David's son Absalom, who attempts to usurp the throne from his father. Absalom, you know, was the handsome guy with the long flowing hair. He was a very strong and a powerful guy and great looking guy. He had charisma. He had prophets on his side. He had the people on his side. But Ahitophel comes to Absalom and says, "There's one thing you need to do for the coup d'etat to happen. You need to take David's wives." As the scripture says, "Go in unto them before all Israel," not meaning we're going to [inaudible 00:27:40]
Cy Kellett:
Put on a show.
Tim Staples:
There's no photographing or [inaudible 00:27:43]
Cy Kellett:
TikTok.
Tim Staples:
But it was simply making it known because that's the old [inaudible 00:27:48].
Cy Kellett:
That you've taken David's wives sexually.
Tim Staples:
Sexually. And that is the ultimate humiliation, and you will usurp the throne. Now without telling the details, of course, he takes the wives. He goes in unto them, but the coup fails and quite dramatically, Absalom is caught in the tree with his locks of hair, caught in the tree and all of that. And he dies. David weeps in the image of Jesus Christ. David, oh, so beautifully weeps, "Absalom, Absalom, my son Absalom." But notice what happens immediately thereafter. David, after he realized that Absalom is dead, he immediately calls, and this you'll find in 2 Samuel 20:1-3. David immediately calls for the 10 wives or concubines to be brought into his palace. But the scripture says he could never have conjugal relations with them. They were locked up, as it were, in widowhood until they died. Why? Because they belonged, as Jeremiah chapter 3:1-2 as well as Deuteronomy 24:1-4 says, "They were defiled by the other. They belonged to the other." So even after death, scripture says that woman could never go back to her first husband. But the first husband has a natural obligation for their wellbeing.
Tim Staples:
Folks, remember, this is not modern day United States where you could go-
Cy Kellett:
No social security.
Tim Staples:
… get put on the dole here. A woman had to have the covering of the man. So David receives his wives into his home. Never has conjugal relations. Of course, St. Joseph receives Mary into his own home, and notice immediately, but Joseph knew full well she belonged to the other. If we had time, folks, get the book, get the book because I talk about the idea of consecration. The fact that she doesn't just belonged to the other. She is consecrated to the Holy Spirit in a nuptial relationship. Of course, Joseph could never go in unto her, to use the biblical language, but he was responsible to care for her and that he did. That is why St. Joseph is, that's one of the reasons why he is the universal patriarch or protector of the universal church even today.
Cy Kellett:
So another time, let's do the why this matters to your spiritual life, but-
Tim Staples:
Aw, we got to do that.
Cy Kellett:
Oh, okay. Thanks for taking the time with us, Tim.
Tim Staples:
All right, brother.