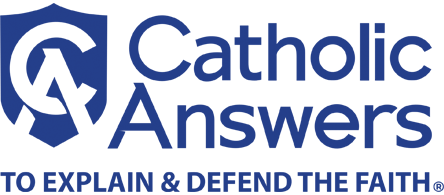 Catholic writer Shaun McAfee joins us to defend the Catholic use of sacramentals—holy water, crucifixes, blessings, etc. This practice looks a lot like magic to both our Protestant and secular friends. Do they have a point? Shaun draws from his new book—20 Answers: Relics and Sacramentals—to explain just what Catholics are up to.
---
Cy Kellett:
Are Catholic sacramentals superstitious and magical? Shaun McAfee next.
Hello and welcome to Focus, the Catholic Answers podcast for living, understanding, and defending your Catholic faith. I'm Cy Kellett, your host. One of the things that we find ourselves having to defend as Catholics is all the physical stuff of the Catholic religion, the images, the statues, the crucifixes, the holy water, all of that, even the blessings. Sometimes to the outsider, whether that outsider is a secular person, or in many cases, our Protestant brothers and sisters, all of that physicality, all of the smoke, the smells and bells, as they say, can seem like a religion of magical practices, but images can be deceiving. The surface of things can be deceiving. Is it magic that we're doing? Do we have superstitions about the sacramentals? Are we teaching superstition by teaching things like the use of holy water, or the use of oils, or even the use of the crucifix?
Shaun McAfee has a new book out from Catholic Answers Press, it's called 20 Answers: Relics & Sacramentals, so we thought this was a good time to talk about sacramentals. We'd had done one earlier on relics with Father Hugh Barbour. You can find that in the files, but this time we thought we'd talk about sacramentals with Shaun. Shaun is a well-known Catholic writer. He's one of the founders, editors, and writers at epicpew.com, and he's got a whole bunch of Catholic books. We asked him, "Shaun, how do we distinguish between sacramentals and magic," and here's what he had to say.
Shaun McAfee, famous Catholic author and personality, thanks for being here with us. I didn't know what to follow up famous Catholic author with, so I went with personality.
Shaun McAfee:
Catholic author. Thank you.
Cy Kellett:
All right.
Shaun McAfee:
Nice to be with you, Cy.
Cy Kellett:
Very nice to be with you. I have in my hands your latest book from Catholic Answers Press, 20 Answers: Relics & Sacramentals, and that's what we're going to talk about today, particularly sacramentals. I'm going to start you off with a proposition here. The gimmick of there's two types of people, well, I would say there's two types of Catholic practices, the kind of Catholic practices you have to defend and the kind you don't have to defend. We never have to defend feeding the hungry, but we do have to defend worshiping the Eucharist. Sacramentals pretty firmly in the constantly have to defend category. Would you agree?
Shaun McAfee:
Yeah, I would say these are probably one of the least understood items, especially from the outside looking in. Without Catholic eyes for most of my life, now two-thirds of my life, you would see a rosary, or we'd see holy water, even candles would be somewhat foreign objects to me. So, these are the items that grew with appreciation for, but digging into what the church teaches about these, it doesn't seem a whole lot different from what we even find in the Bible. There seems to be a continuity of history here with the development of doctrine on sacramentals and how they relate to the sacraments, so it becomes for me a point of comfort.
Cy Kellett:
Good, but it looks a lot like magic. I mean, nobody ever in a movie goes to a Presbyterian minister to drive out a demon, you get a Catholic priest because he comes with the crucifix and the rosaries and the smoke and the light show and the whole deal. So, I think to the casual observer it does look kind of magical.
Shaun McAfee:
It does. There's still some, even amongst well-educated, or I guess well-intentioned Catholics, there are still some misconceptions to clear up, which we do in the book. Particularly one that doesn't appear as magical, but is somewhat of a stray thought is that items like holy water that remit venial sins. No sacramental actually remits a venial sin, and we can get into kind of exactly what the church teaches, but even there we see a flaw.
Cy Kellett:
Let's start at the beginning then maybe. The book is called Relics & Sacramentals, and we have on Catholic Answers Focus spoken about relics elsewhere, so I'll just focus on sacramentals. Maybe you could just start with the, what is a sacramental?
Shaun McAfee:
Well, I'd say there's two primary sources. The first is from the Code of Canon Law, and I'm reading here right from the book. A sacramental, a sacred signs by which effects, especially spiritual effects, are signified in some imitation of the sacraments and are obtained through the intercession of the church. Then the one from Sacrosanctum Concilium, this comes from the document of Vatican II on the liturgy. I think this really expresses it clearly and in concise language, better than really Canon Law. It says, "They signify effects, particularly of a spiritual nature, which are obtained by the intercession of the church and by them, men are disposed to receive the chief effect of the sacraments, which is sanctifying grace."
Cy Kellett:
Wow. This is what a lot of people would like to say the sacraments are actually, this idea that they signify it. You're saying that the holy water, for example, maybe, I don't know, what's, I don't know what the most common or well known, maybe the crucifix is the most well-known sacramental, but let's say holy water. It doesn't say that holy water actually does the job in the way that we'd say the waters of baptism and the whole baptismal event does actually do it. What does that mean exactly, that the holy water signifies it, but it doesn't do it itself?
Shaun McAfee:
Right. We touch upon an important Latin phrase in the book, and this is ex opere operato and it's a Latin phrase that means from the operation of the work. What this means is that with a sacrament, it actually does emit a grace into the soul of the partaker, not because of the sanctity of the priest or because of the goodness of the person, but because of what that sacrament is, specifically because of its substance. But with the sacramental, it's the exact opposite. It doesn't directly provide a grace, but like this definition says, "It disposes us to receive a grace that it signifies."
Shaun McAfee:
You're exactly right. I would point to one of the most obvious ones, and that's the holy water. It points to our baptism. It points to the promises that are made there, and really it reminds us and further encourages us to believe in the promises of baptism. Probably one of the most, not to get too far ahead, but one of the most, I'd say, the most frequent one is the sign of the cross, and this is the-
Cy Kellett:
Oh, yeah.
Shaun McAfee:
… the enduring object of our salvation is salvation on the cross from the work of Christ. Well, this points us to that faith directly in nearly everything we do.
Cy Kellett:
It's interesting you say that because the cross, the sign of the cross is involved in many sacramentals. I mentioned the crucifix and holy water, the sign of the cross is connected to both of those. It strikes me the way that you describe it, that it seems to me that this is profoundly related to the fact that we are creatures of both body and spirit, that we're never just a spirit stuck in a body or a body that's dragging around a spirit. We're, what do you call it, hylomorphs. You're not a human unless you got both of them. The holy water, for example then, is a physical thing that disposes me towards a spiritual good and gives me a kind of physical access to that spiritual good.
Shaun McAfee:
I like to say that we have a very incarnational faith, not just with Jesus Christ. We believe that he was body and spirit, perfectly man, perfectly good. Whenever we talk about the sacraments, we do believe that there are signs, but they are actually substansive signs of realities that we have in heaven and really here on earth. With the sacramentals, like you indicate, they point us to the reality of the promises of those sacraments.
Cy Kellett:
It almost seems like there's a need for these, Shaun, and I wonder what you think about that. Because you'll see the person, our Protestant brother or sister who I don't want to dismiss in any way, but who will have a general intellectual rejection of sacramentals, but they're driving around with a little fish on the back of their car, because they want to, do you see what I'm saying?
Shaun McAfee:
Yeah. One of my favorite examples to bridge the two is Catholics use incense, but one of the things that drove me out of the Protestant churches that I was attending was their use of fog, but it really almost has-
Cy Kellett:
Well, isn't that interesting.
Shaun McAfee:
It really almost has the same effect. Now they're kind of doing it for more of an ambiance, and we know that incense is a sacrmental. It represents our prayers rising as bowls in the book of revelation to throne of God. But really, they have their own acknowledgement of these tangible objects that represent their faith, at least enhance it.
Cy Kellett:
Even the atheist who rejects all of this as magical, the atheist is driving around with a fish with feet on it, on the back of his car, because he's got his little talisman, or he's got the Flying Spaghetti Monster. There seems to be a human need for these physical effects that unveil the unseen.
Shaun McAfee:
I think you can't go too far in one direction or the other. The Gnostics went purely in the spiritual direction because they were afraid of the flesh, and others have rebounded in the opposite direction being afraid of just the spirit. But obviously, I think sacramentals are the perfect way to connect the two, and like you said, particularly useful and necessary.
Cy Kellett:
Our Protestant brother or sister, however, might challenge us on this. You might say, "Yes, this is a kind of a human tendency," but they might say, "It's one we have to fight against if we really believe in biblical religion." Because they'll say, "The Bible is profoundly anti-superstitious, and therefore, we should avoid these sacramentals and all this physical sign language stuff." First of all, is that true that the Bible is against all this, or would it be more true to say actually the Bible supports sacramentals or gives evidence that we should believe in sacramentals?
Shaun McAfee:
I think looking backwards forwards, Genesis to revelation, we see a serious, I wouldn't call it an impediment, but we see a serious unleashing of sacramental imagery. Way back in the Old Testament we see, well, we can define it here. Sacramentals are blessings, exorcisms, and objects of devotion or prayers of devotion. These are the three general concepts. Way back we see Melchisedech, for example, after the battle. Abraham comes to him and receives a blessing. Blessings are abundantly throughout the Bible. Exorcisms, people don't realize these are sacraments too. We didn't really have a need for exorcisms or an authority for exorcisms until Jesus gives that authority to the apostles as a means of ministering to and securing the salvation of souls, really sanctifying them, and like we said, preparing them to receive sacraments. This is what we do in baptism, right? Three exorcisms in the extraordinary form, one in the normal form.
Shaun McAfee:
Then objects of devotion, Jesus, at the pool of Siloam, he used mud to help heal somebody. We know that just a woman with a hemorrhages touched the tassels on his robe and was healed. We see these images. Even after the resurrection, Paul waved his hands over the lepers and healed them. We see them, I think, fluidly, but with the advent of Jesus' authority being given to the apostles, we see really, I would say, an unleashing of this power of the sacramentals as we were introduced to sacraments particularly.
Cy Kellett:
Ah, I see. This is actually something that increases with the coming of Christ and with the preaching of the kingdom of God, not something that is eliminated with it.
Shaun McAfee:
Yes. Just like we see prefigurements of the sacraments in the Old Testament, God flooding the earth to rid it of sin, crossing of the Jordan River as a means of bringing us into the promised land. For baptism specifically with those two objects, we see sacramentals dotted and prefigured throughout the Old Testament too. Maybe people don't realize it until you read the book or read catholicanswers.com often, is even something like holy water, it's in the Book of Chronicles. Priests would sweep up the dust from the floor and they would put it in the water and bless it, and this was supposed to have a healing effect on people. We see them very, if we pay a close attention, we can see all these prefigurements, just like the sacraments in the Old Testament.
Cy Kellett:
I'm thinking of Moses with the serpent on a stake on a post, would that fall into that category, would you say, or no?
Shaun McAfee:
I would. I would. Particularly because of something you alluded to is what our Protestant brethren, what they seem to do is they take that second commandment and they say, "Okay, you're not supposed to make any graven images. These have no use to mankind," but God commanded these. I mean, his tabernacle that he dwelt in had the share of them, parting the mercy seat. We did the same with the staff and the pillar of palms in the Old Testament that people were supposed to walk past, walk through the shadow and be healed. So, I would say we don't really see, when we pay close attention, we don't really see a lack of continuity between the sacraments and sacramentals. I believe that they flow naturally together.
Cy Kellett:
Let's just take any of the sacramentals we've described then, the contemporary sacramentals of the church, the holy water, the blessing, the crucifix, the making the sign of the cross, what do they actually do? What actually is accomplished by these things?
Shaun McAfee:
Right. I would say they really do a number of things and to start where we were at the beginning, the ex operate operato, they don't necessarily have, the church doesn't, in fact, this isn't the writings of the church. We do not guarantee that any of these have a particular effect. So, even something like sprinkling holy water on your baby, it's not a direct effect because of what the substance of it is, it is a more of an interior uplifting of our soul and an ascension of our conscience, really, to a sense of the faith that we already believe and what these sacramentals point to. I would say, and this isn't to dance around the issue, because it's quite a bit indirect, what sacramentals do is I think they help us learn and they help verify our faith.
Shaun McAfee:
Sometimes, oftentimes, God works miracles through these sacramentals, too. Of course what the, I'd say, the ultimate promise of sacramentals is, is salvation. The classic example would be the brown scapular. The writings on a brown scapular, they say something to the effect of, "The person who wears this will be guaranteed entrance into heaven." That's basically the way that we think of the brown scapular, but it does not certainly mean that if you put it on anybody, they will literally go to heaven. What it is, it's the promise of that devotion to what the scapular represents that enhances our sanctity and then brings us into communion through the sacraments. They bring us a further into communion through the sacraments with friendship with God, and eventually if we persevere, we will get to heaven. So, I hope that brings us into that teaching.
Cy Kellett:
The putting on the scapular then, it doesn't mean just physically putting on the scapular. It means putting on the scapular as a way of life. Would that be a way-
Shaun McAfee:
Yes, exactly. Paul says, "Put on the new man." This is what we do when we fill our lives with these sacramentals, they point us and better orient us to receiving the sacraments. What do we do whenever we walk into confession? First thing we do is the sign of the cross. Last thing we do as the sign of the cross. It's all because of the virtue of the merit of Jesus on the cross.
Shaun McAfee:
Now, a part of the definition is through the intercession of the church, and that has to be understood too. We can't just call it anything a sacramental, any old blessing isn't just a sacramental. These are authorized by the church because there's a church who intercedes through these. Like we mentioned before, it's the apostolic authority that the church has received as Vicars of Christ, really the bishops, to authorize the use of these. I'd say over the course of 2000 years, we've come to understand them a lot better than we did in the time before Agustin and Aquinas, but hopefully that summarizes that.
Cy Kellett:
There is the danger though, and I actually think that we Catholics maybe don't attend to this danger enough. There is always the danger of becoming a superstitious Catholic. So that the same sacramental can be for one Catholic, or maybe even for the majority of Catholics, an ascent to God and a moment of accepting the church, like blessing myself with holy water. To another, when I walk into a church, okay, so there's a whole thing connecting me to me, reminding me of my baptism and connecting me to the Lord, who is the living water, and all this is happening there because of that's communicated by the meaning of water and of a blessing and all of that. But you can also have the person who treats holy water magically, treats it actually as a magical object.
Shaun McAfee:
I would say what it looks like is not always what it is. Just like our devotions to Mary, we don't believe that Mary is God. We are not devoted to Mary in order to go and spend eternity with Mary. We are devoted to Mary because she orients us to Christ better than any other saint, better than any other living person has ever done. These sacramentals, they dispose our hearts in order to, again, point us to the sacramentals.
Shaun McAfee:
But yes, of course, it's the interior disposition of us, and even those who would disagree with the Catholic Church, when they see something, it doesn't always appear, they say perceptions are reality. Well, I think the only way to really combat that, Cy, is to understand how to articulate the church's proper teaching on sacramentals. They're not magic objects that promise us certain effects. These are things that dispose us to better receive Christ in the sacraments that he has instituted and commanded us to observe.
Cy Kellett:
But you can also see that at the edges of the Catholic faith, there's always practices. You think of a like a religion like Santería, for example, that some of that imagery is drawn from the Catholic Church, some of it drawn from other places. You make this blend, but in that case, there's not really a Christian faith associated with these sacramentals, so would it be fair to say they have no power?
Shaun McAfee:
I wouldn't. I'm not familiar directly with Santería, but I would say, a lot like, who is it that said this? I think it was Cardinal Newman. He made this comparison that even the riddles in pagan religions point to the truths of God. Like we were talking about the difference between incense and fog during what we might be able to call a Protestant liturgy, so ingrained in the Catholic lexicon here that I can't not call it a liturgy, but I would say that even what it's doing there is pointing to a reality that, like you said in the beginning, we can all come to agree with. We need something physical to represent the spiritual, and we shouldn't find really any problems with that. I think it would be the disposition of our hearts. Every man owes it to himself to clear up the sensitivities to superstition. But the way that we express it, I believe that Catholics should have no harm in clinging to their bottles of holy water, right over my shoulder, or the icons, or praying in front of a crucifix. We're not praying to that graven image, we are praying to what that graven image represents.
Cy Kellett:
I think most Catholics can testify to that by experience, that if anyone were interested to ask, and I think people are rarely interested to ask, I don't recall any instance in my life, from my childhood on, of worshiping the crucifix, but I recall many, many instances of the site of the crucifix either convicting me to straighten up because I'm not behaving well, I'm sinning in one way or another, or inviting me to remember the Lord.
Shaun McAfee:
I think that points to one particular historically important aspect of the use of sacramentals is in an age where people were fairly illiterate for the first 1,500 years of the church, we'd look to icons, we'd look to the crucifix, we'd look to these objects that represent what the priest or the Bishop, that preaching office of the church has ensured us is correct. But it has to be nuanced these days as we grow more understanding of the complexities of these topics and really these arguments. But still, I think they're an invaluable tool. I mean, my one-year-old chews on one of those little choose life rosaries on his wrist. One day, that familiarity with 10 beads is going to come naturally to him, and he'll be able to use that and recognize this as an object of devotion for the rest of his life. I think that's a really cool thought.
Cy Kellett:
That's probably a great place to get to, a question that I think will sum this up for us, but again, the book is Relics & Sacramentals, 20 Answers: Relics & Sacramentals from our guest, Shaun McAfee. You can get it at shop.catholic.com. But the faith is not just for the person who can intellectually be discursive on the Trinity or explain the theology of the church. That the church is for everybody, and the sacramentals actually provide an access that's not purely an intellectual ascent. It provides a different layer of access, so that all these things actually do, they're important to make the church kind of democratic, I suppose, in a way. Not democratic in terms of voting, but democratic in terms of it's for everyone, it's not just for the intellectual.
Shaun McAfee:
It's very participative. I think that's one of the things that I do appreciate about the Catholic Church. Now almost 10, 12 years as a Catholic, I've really come to appreciate the fact that our faith is accessible in these ways to children, and even adults who are neophytes can look at these objects and understand quite easily really what they represent. Sometimes it's not always there, like a bell, that's a sacramental. What exactly is that pointing to? But you're right. I love the fact that our faith can not just be for intellectuals, like the great folks at Catholic Answers or any of the top theologians, but these can help us point to the really the essential truths, which are really made for everybody to understand neophyte and scholastic.
Cy Kellett:
There's something about, well, you mentioned the bell, and it makes me think of that painting by, I think it's Manet, of the husband and wife praying the Angelus, and in the background, you can see the church, and there's the bell tower on the church. But the hearing the Angelus played on those bells reminds me of the value of time. It reminds me of where I am and who I am, and it does actually have a great power.
Shaun McAfee:
Same with the oils. We have three types of oils, and all three of them are sacramentals, and they're used for different ways to strengthen us. But really, it's the enriching of our faith in what they are, again, representing, which is the sacraments. I think that's the most important thing listeners need to takeaway is these sacramentals, they're great, but rosaries collect dust, rosaries break, but the sacramentals, or the sacraments, they never break. They never collect dust. They are absolutely effective.
Cy Kellett:
Amen, brother. Well, Shaun, thanks very much for the book, Relics & Sacramentals, and for taking the time to defend sacramentals. That they need so much defending, but once you get past that and realize the kind of gift that they are, they constantly deepen and strengthen the faith.
Shaun McAfee:
Absolutely. I would say for me, just closing comment, is the practice that I've realized becoming a more mature Catholic is the temptation to just hoard all the incense, all the rosaries, the beautiful stuff. Really it, again, doesn't come down to what that object looks like. It can collect dust. There's a saint out there who had a bone fish rosary. It cut him every time he prayed it, and it was a penance. But it wasn't because it was even the most beautiful rosary or even the most penitential rosary, it was because, again, what it represents.
Cy Kellett:
Praise God. Thanks, Shaun.
Cy Kellett:
Many institutions look different from the inside than they do from the outside. Certainly the inside of a Catholic church looks a lot different from the outside of it. From within the Catholic Church, all of these sacramental practices that we have, all of these physical things, they don't actually function in the life of an everyday Catholic except where there's some kind of disorder in a superstitious way. They are powerful reminders. They are means, physical means of taking spiritual actions and accepting spiritual gifts, and they're powerful in that way. I could certainly testify to that in my own life.
There's always the temptation to overdo, to turn a sacramental into a superstition, that kind of thing. There's always the temptation to be excessive in anything that we do. But so long as we are not excessive, so long as what we really are is receptive, we're trying to receive God's grace. We want to be those receivers of God's grace and to be proficient at receiving, not rejecting, but receiving, to be open, the sacramentals really help us to do that.
So, I recommend the book to you, Relics & Sacramentals, 20 Answers: Relics & Sacramentals from Shaun McAfee, and I also recommend the practice to you. Have some holy water at home. Don't forget the rosary. Make sure that there's a Bible out on display in your home, and there's a crucifix where people can see it. All of these things matter. They are part of what makes us Catholic and part of what the Catholic faith does, or all what the Catholic faith does, I suppose, when it's really is get us to heaven. It really, these things are part of that great work of the one really great sacrament, the sacrament for encountering God, the Catholic Church itself.
I'm Cy Kellett, your host. We're grateful to Shaun for joining us. If you want to support us financially, we do need your financial support to keep doing what we're doing here, which is explaining and defending the Catholic faith. You can support us by visiting the website, givecatholic.com. Give in any amount, leave a little note about why you're giving, but certainly leave a note that says it's for Catholic Answers Focus, that way it'll get to us at givecatholic.com.
Don't forget to like and subscribe if you're watching on YouTube, and thank you for helping us to grow on YouTube. We're very happy with the growth there. If you listen, wherever you listen, subscribe. That way you'll get an update whenever there's a new episode out. If you could give us that five star review, maybe a nice comment, that also helps us to grow this podcast. I'm Cy Kellett, your host. We'll see you next time, God willing, right here on Catholic Answers Focus.