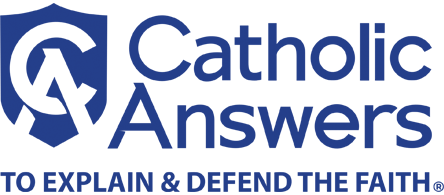 The Bible says that Peter wasn't in Rome. So how could he be its first bishop?
Question:
Catholics claim Peter as the first pope because he served as Bishop of Rome. But the Bible says he was never there. Paul, writing from Rome, says, "Only Luke is with me" (2 Tim. 4:11). This by itself proves Peter wasn't there.
Answer:
Actually, the most it could prove is that Peter wasn't there when Paul was writing. It doesn't prove that Peter never was there. Maybe he was just out of town.
Don't read more than is warranted into a verse. If you follow your line of reasoning, you'll have to say no other Christians at all were in Rome, other than Paul and Luke, but we know that Rome had a large Christian community–they weren't all out of town on the same day, were they?
In fact, the Bible does allude to Peter's being in Rome. Peter concludes his first epistle with a cryptic greeting from "Babylon." This was the early Church's code word for Rome. The term didn't mean the city of Babylon which figures so greatly in the Old Testament, though the code word was chosen precisely because of what ancient Babylon had done to the Jews–the Romans were doing likewise to Christians.
Why did the early Christians, in their letters, write "I'm in Babylon" instead of "I'm in Rome"? Because the authorities were hunting for them–the Church was being persecuted–and mail delivery was unreliable.
You never knew when a Roman official would confiscate one of your letters. So, if you didn't want to advertise your whereabouts to the disloyal opposition, you used code words.
The scriptural evidence may not convince you of Peter's presence in Rome. Fair enough. But you ought to look also at other early writings and at the archaeological evidence. (You owe it to yourself and to Catholics to examine all the available evidence.)
Irenaeus, in Against Heresies (A.D. 190), said Matthew wrote his Gospel "while Peter and Paul were evangelizing in Rome." Dionysius of Corinith, about A.D. 170, referred to "the planting that was made by Peter and Paul at Rome."
What about the archaeological evidence? In the middle decades of this century scientists conducted digs under St. Peter's Basilica to verify or disprove the tradition that the church had been constructed over Peter's tomb.
And what do you think they found? That's right: the tomb. Pope Paul VI was able to announce that conclusive proof had been discovered–for instance, neighboring crypts on which were written grafitti such as, "Buried near Peter." For a popular account of the excavations, read John Evangelist Walsh's The Bones of St. Peter.