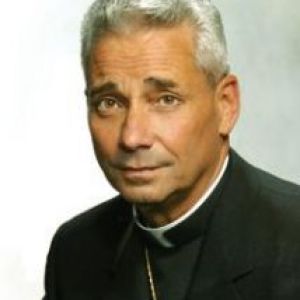 Bishop Joseph W. Estabrook, D.D. is Auxiliary Bishop of United States of America Military.  He holds a Master of Divinity degree from Christ the King Seminary, New York. During his military service he studied Ethics at the Jesuit School of Theology in Berkeley. Bishop Estabrook was ordained a priest of the Diocese of Albany on May 30, 1969.  Prior to entering the chaplaincy, he served as associate pastor of St. Vincent de Paul Parish, Albany, for three years and for five years as the Director of the Diocesan Family Life Office.  After entering the chaplaincy of the U.S. Navy in 1977, he served as Chaplain at Naval Hospital, Jacksonville, Florida, 1977-1980; USMC, Quantico, Virginia, 1980-1984; USS Carl Vinson, 1984-1988;and  Department of Navy, Executive Assistant, 1994-1997. He was appointed to the Naval Station in Pearl Harbor as Command Chaplain in 1997. Bishop Estabrook holds the rank of Navy Captain and has served Navy and Marine personnel throughout the United States, in Sigonella, Italy, and in the Office of the Chief of Chaplains, Washington, D.C.
Enjoying this content?
Please support our mission!
Donate