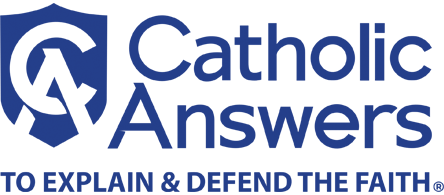 OBJECTOR: I went to Mass with one of my friends, and I noticed that during the Penitential Rite, Catholics ask for prayers from "the Blessed Mary, ever Virgin." This is an obvious example of Catholics adding teachings that contradict the clear witness of Scripture.
CATHOLIC: On the contrary, the belief that Mary was always a virgin has been held since the earliest days of Christianity. Many of the early Church Fathers, including Athanasius, Jerome, and Augustine, expressed this belief. To give just one example, Augustine said in A.D. 411 that Mary was "a Virgin conceiving, a Virgin bearing, a Virgin pregnant, a Virgin bringing forth, a Virgin perpetual."
OBJECTOR: Well, I definitely respect Augustine, but just because he said something doesn't mean that it's true. He was a great theologian, but he wasn't infallible. This is one case where I'll have to disagree with him. By the time Augustine said this, over three hundred years had gone by since Mary had lived.
CATHOLIC: I understand that Augustine was fallible, but I don't think you should dismiss his testimony so easily, especially because what he says is supported by many other early Fathers. Another source that supports belief in Mary's perpetual virginity is the Protoevangelium of James. It was written around A.D. 120, when some of those who had known the apostles were still alive. It records that Mary was dedicated before her birth to serve the Lord in the temple, as Samuel had been dedicated by his mother (1 Sam. 1:11). This required perpetual virginity of Mary so that she could completely devote herself to the service of the Lord.
OBJECTOR: But if Mary wasn't supposed to get married, why do we read that that Mary was engaged to Joseph (Luke 1:27)?
CATHOLIC: Again according to the Protoevangelium of James, concerns about ceremonial cleanliness required that Mary have a male protector who would respect her vow of virginity. Joseph was "chosen by lot to take into [his] keeping the Virgin of the Lord." His duty to guard Mary was taken so seriously that when Mary conceived, Joseph had to answer to the temple authorities. So Mary's betrothal to Joseph was not in conflict with her vow of virginity.
OBJECTOR: This is very interesting, but there were many things written early in the history of Christianity that did not express what Christians actually believed, such as the Gnostic gospels. Like these, the Protoevangelium of James expresses a belief that is contrary to what has been revealed in Scripture.
CATHOLIC: I agree that we should use caution when relying on extra biblical accounts, but we can also see evidence in the biblical texts that Mary had chosen to be a virgin. When the angel Gabriel tells Mary that she will bear a son, Mary asks, "How shall this be, since I have no husband?" (Luke 1:34). At this point, Mary was engaged to Joseph. Why would she then be so surprised at being told she would conceive? If she were planning on having children with Joseph in the usual way, it wouldn't make sense for her to ask how she would be able to have a child. This question makes sense only if Mary was already planning to remain a virgin.
OBJECTOR: Maybe if you read this in light of the Protoevangelium of James, this passage could be read as an indication that Mary was planning on remaining a virgin. But why should we rely on ambiguous biblical passages and extra biblical evidence when the Bible itself clearly states that Jesus had siblings? For example, Matthew records that "while [Jesus] was still speaking to the people, behold, his mother and his brothers stood outside, asking to speak to him" (Matt. 12:46). His listeners ask, "Is not this the carpenter's son? Is not his mother called Mary? And are not his brothers James and Joseph and Simon and Judas?" (Matt. 13:55). Jesus is even advised by his siblings: "So his brothers said to him, 'Leave here and go to Judea, that your disciples may see the works you are doing. For no man works in secret if he seeks to be known openly. If you do these things, show yourself to the world'" (John 7:3–4).
CATHOLIC: Although the Bible says that Jesus had brothers, this doesn't mean that they were necessarily sons of Mary. If we accept the theory put forth in the Protoevangelium of James and accepted by many in the early Church, Jesus' brothers would be stepbrothers, sons of Joseph but not of Mary. This would explain why Jesus' "brothers" felt that they could admonish him, as they do in John 7:3–4. In Near Eastern society of that time, it was normally unacceptable for younger siblings to give advice to older ones.
OBJECTOR: But not all of the early Church Fathers believed that Joseph had children. St. Jerome said, "I claim that Joseph himself was a virgin."
CATHOLIC: It is interesting that you quote St. Jerome, who adamantly defended the doctrine of Mary's perpetual virginity. It is certainly possible for Catholics to believe that Joseph did not have children of his own. In this case, the brothers of Jesus could be other relatives, such as cousins. Aramaic, the language spoken by Jesus and his apostles, had no word for "cousin," so cousins and other close relatives were often referred to as brothers. For example, Abraham's nephew Lot was called his brother (Gen. 14:14).
OBJECTOR: There's a problem with your reasoning here. Although cousins may have been referred to as brothers, it's clear that in this case, the word brothersmeans blood brothers of Jesus—sons of Mary. We read in Matthew's Gospel that Joseph "had no marital relations with her until she had borne her firstborn son" (Matt. 1:25). This implies that Joseph did have relations with her after she had given birth.
CATHOLIC: The word until here just says what happened up to the time of Christ's birth. It doesn't imply anything about what happened after that, although our modern use of the word until seems to imply that. For an example of this, look at 2 Samuel 6:23, which says, "Michal the daughter of Saul had no children till the day of her death." We're obviously not supposed to assume that she had children after she died.
OBJECTOR: In this case, it's obvious that Michal could not have had children after her death. The situation of Mary and Joseph is quite different. We see that in the same verse, Jesus is called Mary's firstborn son. If Jesus is designated as Mary's firstborn son, that shows that she had other children. My mother wouldn't call me her oldest child if I were her only child.
CATHOLIC: This is another case where our modern understanding of terms interferes with understanding what the Bible meant at the time it was written. In biblical times, the term firstborn had great importance. The firstborn was to be consecrated to the Lord (Ex. 13:2); the parents were to redeem every firstborn son (Ex. 34:20). They weren't supposed to wait until they had a second child to redeem the firstborn, and so the first son born to a woman was called the firstborn regardless of whether or not she had other children later on.
OBJECTOR: It seems to me like you're using a lot of complicated reasoning to ignore the obvious statements in Scripture that show that Jesus had brothers and that Mary therefore could not have remained a virgin. You're going to the passages with the idea that Mary was a virgin, and you're reading that idea into the passages instead of drawing it from them. Even if the passages in question could be interpreted the way you see them, I don't see any evidence in Scripture that they should be interpreted that way.
CATHOLIC: On the contrary, I think there is evidence (even beyond what I've shown you already) that it is very reasonable to interpret the texts as showing that Jesus did not have brothers. If Jesus did have brothers, why would he have entrusted Mary to the beloved disciple, John, at the foot of the cross (John 19:26–27)? He would have had surviving siblings who would have taken care of her. It would be surprising for Jesus to release his brothers from their obligation to their mother, especially because he criticized the Pharisees for neglecting the support of their own parents in Matthew 15:3–6.
OBJECTOR: But how could Mary and Joseph have had a loving marriage if she always remained a virgin?
CATHOLIC: Granted, a life of complete abstinence is not the recommended way for ordinary married couples to interact. But Mary and Joseph were not an ordinary married couple. They were entrusted with raising the Son of God. This circumstance was so unusual that their marriage could not have been an ordinary one, because the child they nurtured was no ordinary child.
OBJECTOR: I still don't see why the Church requires Catholics to believe that Mary remained a virgin instead of allowing them to have their own opinions. Does it really matter if Mary had other children?
CATHOLIC: Actually, it does matter. Every doctrine about Mary tells us something about Christ or something about ourselves or the Church. Mary's perpetual virginity demonstrates her purity of heart and total love for God. In 388, St. Ambrose of Milan wrote that Mary's virginity was "so great an example of material virtue" because it demonstrated her total devotion to Jesus. In Mary, we see an example of the purity our own hearts must have in total dedication to God. Her virginity also tells us something about the Church, which, like Mary, is both mother to the faithful and "pure bride to her one husband" (2 Cor. 11:2).