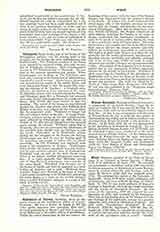 Click to enlarge
Widukind, Saxon leader, one of the heads of the Westphalian nobility, was the moving spirit in the struggles of the Saxons for their independence and heathen faith. The Frankish accounts of the Saxon wars, colored by national feeling, give only an out-line of Widukind's character. After Charlemagne's victory in 777 Widukind fled to Denmark. He saw that at the moment opposition was useless. When Charlemagne was in Spain in 778, Widukind came back and, trusting to the Saxon love of independence, organized a war of revenge. Saxon hordes plundered and devastated the region of the middle Rhine, and even threatened Fulda, so that the monks fled, carrying the remains of St. Boniface. A Frankish army defeated the Saxons at Laisa and rescued the town. In 782 order seemed to be restored among the Saxons, and Widukind again fled to Denmark, but returned once more when Charlemagne began his march toward home. The Wends also were incited to join the uprising. The hatred of the insurgents was directed against the churches and priests, and Willihad, first Bishop of Bremen, was obliged for the time to abandon his missionary work. Widukind no longer had the entire Saxon nation on his side. A strong Frankish party had now sprang up, but the terrible punishment inflicted by Charlemagne on 4000 Saxons at Verden on the Aller greatly strengthened the national party among the Saxons. Widukind again fled to Denmark; after this he persuaded the inhabitants of the northern Elbe district and the Frisians to join the revolt. Particulars as to Widukind's actions during the last struggles of the Saxons are lacking. Charlemagne saw that he was the leading spirit of the resistance and sought to induce him to submit peacefully. In 785 Widukind was baptized, with many of his companions, at Attigny. Charlemagne believed that the Saxon opposition was now broken, and the pope ordered a general feast of thanksgiving. Widukind took no part in the later Saxon wars. There is no further credible information respecting him. It is fairly probable that Mathilde, second wife of King Henry I of Germany, was a member of the same family. Widukind soon became one of the heroes of legend, and later he appeared as a great builder of churches and a saint. Medieval times regarded Enger, near Herford, as his place of burial. A gravestone purporting to be Widukind's and giving his entire figure, is a work of the twelfth century; what is called Widukind's reliquary is a work of the ninth or tenth century.
FRANZ KAMPERS
---
Enjoying this content?
Please support our mission!
Donate