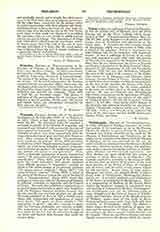 Click to enlarge
Tricca, titular see, suffragan of Larissa in Thessaly. It was an ancient city of Thessaly, near the River Peneius and on the River Letheus which devastated it in 1907. It is mentioned in Homer (Iliad, II, 729; IV, 202) as the Kingdom of Machaon and Podaleirius, sons of Aesculapius and physicians of the Greek army. It possessed the oldest known temple of Aesculapius, which was discovered in 1902, with a hospital for pilgrims. Tricca is mentioned by other writers, but not in connection with important events. It was a suffragan of Larissa at an early date and remained so until 1882 when this portion of Thessaly was annexed to the Kingdom of Greece. Since then the see, which bears the names of Triccala and Stagoi, is dependent on the Holy Synod of Athens. Socrates (V, 22), Sozomenes (V, 12), and Nicephorus Callistus (XII, 34) say that Heliodorus, probably the same as the author of the romance of the Ethiopian women or of Theagenes and Charicles (third century), became Bishop of Tricca. Another bishop, to whom have been wrongly attributed commentaries on the Acts of the Apostles, the Epistle of St. Paul, and the Catholic Epistles (for the works published in his name are not his), lived at the end of the sixth century. He was an Origenist and Monophysite who wrote a commentary on the Apocalypse (Petrides "Oecumenius de Tricca, ses oeuvres et son culte'1 in "Ethos d'Orient", VI, 307-10; Le Quien, "Oriens christ.", I, 117-20). Some Latin titular bishops in the fifteenth and sixteenth centuries are also known (Eubel, "Hierarchia catholica medii aevi," II, 280; III, 338). Tricca, now Triccala, is the capital of the nome of the same name and has 28,000 inhabitants: Greeks, Turks, and Jews.
S. VAILHE
---
Enjoying this content?
Please support our mission!
Donate