Thomas William Croke
Archbishop of Cashel, Ireland, b. near Mallow, Co. Cork, May 24, 1824; d. at Thurles, July 22, 1902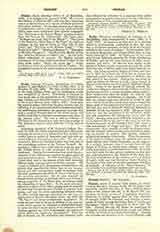 Click to enlarge
Croke, THOMAS WILLIAM, Archbishop of Cashel, Ireland, b. near Mallow, Co. Cork, May 24, 1824; d. at Thurles, July 22, 1902. His early studies were made at the Irish College, Paris, and his theological course was completed at Rome. Returning to Ireland he was made one of the professors at St. Patrick's College, Carlow, and then did mission work at Charleville in his native diocese from 1849 to 1858. They were the years of misery following the great famine, and the suffering of the people from their economic and political misfortunes intensified the national leanings that were a marked characteristic of his whole career and which made him to his fellow-countrymen the ideal of the patriot priest. He was a zealous follower of O'Connell in the Repeal Era, and when the prestige of The Liberator waned, sided with the Young Ireland party.
Appointed president of St. Colman's College, Fermoy, in 1858, Dr. Croke administered this office satisfactorily for seven years, followed by five equally successful years as pastor of Doneraile, and was then appointed Bishop of Auckland, Australia. He was consecrated in Rome by Cardinal Cullen and took part in the concluding sessions of the Vatican Council. returning to Ireland for a brief visit, he went by way of the United States to take possession of his See of Auckland. During the succeeding four years his government of the diocese was marked by great spiritual and material progress. In 1874 Archbishop Leahy of Cashel died, and at the request of the Irish hierarchy Bishop Croke was appointed to fill the vacancy. His return to Ireland gave the greatest satisfaction to the people, who immediately hailed him as the unquestioned and safe ecclesiastical leader in national politics that Archbishop MacHale of Tuam had been for the previous generation. He at once resumed his former active interest in political affairs and became a strong supporter of the Home Rule movement under the leadership of Isaac Butt. In the more advanced agrarian projects of the Land League days he was side by side with Charles Stewart Parnell in popular leadership, and was the main restraining influence when the ultra-radical element, infuriated by the new coercion laws of British officialism, broke out with the "No Rent" and other revolutionary manifestos. He made several visits to Rome in defense of the popular cause and to oppose the attempts of British diplomacy to enlist the direct intervention of the influence of the Vatican against the Irish Nationalists, the justice of whose efforts he vigorously championed. After the fall of Parnell and the confusion and factional strife that followed he withdrew in a measure from active participation in politics, but never lost his enthusiasm for the cause of Irish national regeneration.
THOMAS F. MEEHAN
---
Enjoying this content?
Please support our mission!
Donate