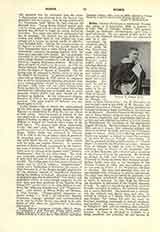 Click to enlarge
Burke, THOMAS NICHOLAS, a celebrated Dominican orator, b. September 8, 1830, in Galway; d. July 2, 1882, at Tallaght, Ireland. His parents, though in moderate circumstances, gave him a good education. He was placed at first under the care of the Patrician Brothers, and was afterwards sent to a private school. An attack of typhoid fever when he was fourteen years old, and the harrowing scenes of the famine year (1847), had a sobering effect on the quick-witted and studious lad, and turned his thoughts into more serious channels. Toward the end of that year he asked to be received into the Order of Preachers, and was sent to Perugia in Italy, to make his novitiate. On December 29, he was clothed there in the habit of St. Dominic and received the name of Thomas. Shortly afterward he was sent to Rome to begin his studies in the Convent of the Minerva. He passed thence to the Roman convent of Santa Sabina, where he won such esteem by his fervor, regularity, and cheerfulness, that his superiors sent him, while yet a student, as novice-master to Woodchester, the novitiate of the resuscitated English Province. He was ordained priest March 26, 1853, and on August 3, 1854, defended publicly the theses in universa theologia, and took his Dominican degree of Lector. Early in the following year Father Burke was recalled to Ireland to found the novitiate of the Irish Province at Tallaght, near Dublin. In 1859 he preached his first notable sermon on "Church Music"; it immediately lifted him into fame. Elected Prior of Tallaght in 1863, he went to Rome the following year as Rector of the Dominican convent of San Clemente, and attracted great attention in the Eternal City by his preaching. He returned to Ireland in 1867, and delivered his oration on O'Connell at Glasnevin before fifty thousand people. Bishop Leahy took him as his theologian to the Vatican Council in 1870, and the following year he was sent as Visitor to the Dominican convents in America. His fame had preceded him, and he was besieged with invitations to preach and lecture. The seats were filled hours before he appeared, and his audiences overflowed the churches and halls in which he lectured. In New York he delivered the discourses in refutation of the English historian Froude. In eighteen months he gave four hundred lectures, exclusive of sermons, the proceeds amounting to nearly $400,000. His mission was a triumph, but the triumph was dearly won, and when he arrived in Ireland on March 7, 1873, he was spent and broken. Yet during the next ten years we find him preaching continually in Ireland, England, and Scotland. He began the erection of the church in Tallaght in 1882, and the following May preached a series of sermons in the new Dominican church, London. In June he returned to Tallaght in a dying condition, and preached his last sermon in the Jesuit church, Dublin, in aid of the starving children of Donegal. A few days afterwards he breathed forth his soul to God, in Whose service he had labored so valiantly. Father Burke possessed all the qualities of a great orator: a rich, flexible, harmonious voice, great dramatic power, and a vivid imagination. He is buried in the church of Tallaght, now a memorial to him. Many of his lectures and sermons were collected and published in various editions in New York, as were also the four lectures in reply to Fronde (1872) the latter with the title "The Case of Ireland Stated".
STANISLAUS HOGAN
---
Enjoying this content?
Please support our mission!
Donate