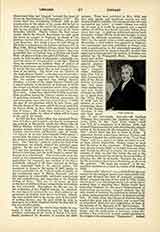 Click to enlarge
Linacre, Thomas, English physician and clergyman, founder of the Royal College of Physicians, London, b. at Canterbury about 1460; d. in London, October 20, 1524. Nothing is known of his parents, but they seem to have been poor and obscure. His preliminary education was obtained at the monastery school of Christ Church, Canterbury, then presided over by the famous William Selling the first great student of the "new learning" in England. Through Selling's influence Linacre entered All Souls College, Oxford, about 1480, and in 1484 was elected fellow. He distinguished himself in Greek under Cornelio Vitelli. When Selling was sent to Rome as ambassador by Henry VII, Linacre accompanied him, obtaining an introduction to Lorenzo de' Medici, who welcomed him into his own household as a fellow-student of his sons, of whom one was later to become Pope Leo X. Here under Politian in Latin, and Demetrius Chalcondylas in Greek, Linacre obtained aknowledge of these languages which made him one of the foremost humanistic scholars in England. During ten years in Italy, Linacre also studied medicine at Vicenza under Nicholas Leonicenus, a famous physician of the time, and received his degree of M.D. at Padua. Returned to England, Linacre became, after years of distinguished practice, the royal physician to Henry VIII and the regular medical attendant of Cardinal Wolsey, Archbishop Warham, Primate of England, Fox, Bishop of Winchester, and many of the highest nobility of the country. He was also the intimate friend of Sir Thomas More, Erasmus, and Dean Colet. After some eleven years of a life which brought him constantly in contact with the great nobles and the best scholars of England, he resigned his position as physician to the king in 1520 to become a priest. He devoted the fortune which had come to him from his medical practice to the foundation of chairs in Greek medicine at both Oxford and Cambridge, and to the establishment of the Royal College of Physicians. This institution was for the regulation of the practice of medicine, which had fallen into disrepute in consequence of the great increase of irregular practitioners. After Linacre obtained his charter, no one except a regular physician could practice in and around London. The constitution of the college, drawn up by Linacre, and still in force, is a standing monument of his farseeing judgment. The college is an honored English institution and the oldest of its kind in the world. Linacre's contributions to medicine consist mainly of his translations of Galen's' works from Greek into Latin. Erasmus said Linacre's Latin was better than Galen's Greek. He published the "Methodus Medendi", "De Sanitate Tuenda", "De Symptomatum Differentiis et Causis", and "De Pulsuum Usu". Linacre was greatly respected by his contemporaries; Johnson, his biographer, says, "He seems to have had no enemies", and his reputation has lasted to the present day.
JAMES J. WALSH
---
Enjoying this content?
Please support our mission!
Donate