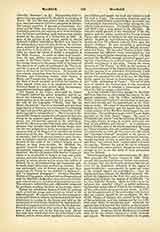 Click to enlarge
McGee, THOMAS D'ARCY,, editor, politician, and poet, b. at Carlingford Co. Louth, Ireland, April 13, 1825; assassinated at Ottawa, Canada, April 7, 1868. He was a precocious youth and emigrating to the United States at seventeen a speech he made soon after at Providence, Rhode Island, on the Repeal of the Union between England and Ireland, brought him an offer of employment on the Boston "Pilot". His editorial and other contributions to this paper and public addresses attracted the attention of O'Connell who called them "the inspired utterances of a young exiled Irish boy in America". After this McGee returned to Dublin to take a place on the editorial staff of "The Fzeeman's Journal", but his advocacy of the advanced ideas of the Young Ireland Party caused him to leave that paper for a position on Charles Gavan Duffy's "Nation", in which many of his poems and patriotic essays were printed. In the subsequent revolutionary episodes of 1848 he figured as one of the most active leaders, being the secretary of the Irish Confederation, and was arrested and imprisoned for a short time because of an unwise speech. When the government began to suppress the movement and to arrest its leaders McGee escaped to the United States disguised as a priest. In New York he started a paper called "The Nation", but soon got into trouble with Bishop Hughes over his violent revolutionary ideas and diatribes against the priesthood in their relation to Irish politics. Changing the name of the paper to "The American Celt" he moved to Boston, thence to Buffalo and again back to New York.
In 1857 he settled in Montreal where he published another paper, "The New Era", and entering actively into local politics was elected to the Canadian Parliament, in which his ability as a speaker put him at once in the front rank. He changed the whole tenor of his political views and, as he advanced in official prominence, advocated British supremacy as loyally as he had formerly promoted the revolutionary doctrines of his youth. The Confederation of the British colonies of North America as the Dominion of Canada was due largely to his initiative. In the change of his political ideas he constantly embittered and attacked the revolutionary organizations of his fellow countrymen, and so made himself very obnoxious to them. It was this that led to his assassination by an overwrought fanatic. His literary activity in his earlier years brought forth many poems full of patriotic vigor, tenderness and melody, and a number of works, notably: "Irish Writers of the Seventeenth Century" (1846); "History of the Trish Settlers in North America" (1854); "History of the Attempt to establish the Protestant Reformation in Ireland" (1853); "Catholic History of North America" (1854); "History of Ireland" (1862).
THOMAS F. MEEHAN
---
Enjoying this content?
Please support our mission!
Donate