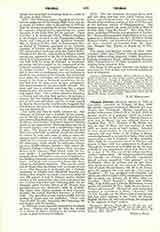 Click to enlarge
Thomas Cottam, BLESSED, martyr, b. 1549, in Lancashire; executed at Tyburn, May 30, 1582. His parents, Laurence Cottam of Dilworth and Anne Brewer, were Protestants. Having completed his studies at Brasenose, Oxford (M.A., July 14, 1572) he became master of a grammar school in London. Converted there to the faith by Thomas Pound he went over to Douai, and was ordained deacon at Cambrai, December, 1577. Desirous of the Indian mission, he went to Rome and was received (April 8, 1579) as a Jesuit novice at Sant' Andrea. Attacked by fever about October, he was sent to Lyons to recuperate, and went thence to the College at Reims, considering himself as accepted for India, if his health improved by a visit to England. In May (probably 28th), 1580, he was ordained priest at Soissons, and started (June 5) with four companions for England. Through the treachery of an English spy by the name of Sledd he was immediately arrested at Dover, but by a ruse of Dr. Ely, one of his fellow-travellers, reached London safely. Ely being imperilled through this friendly act, Cottam voluntarily surrendered himself and was committed "close prisoner" to the Marshalsea, where he perhaps said his first Mass. After being tortured, he was removed, December 4, 1580 (Catholic Record Society, III, 10) to the Tower, where he endured the rack and the "Scavenger's Daughter". He was arraigned with Campion and others and (November 16, 1581) condemned to death. His execution was deferred till May 30, 1582 (see Munday's "Breefe Reporte"), when with William Filby, Luke Kirby and Laurence Richardson, secular priests (all beatified December 29, 1886), he was drawn to Tyburn and executed. His portrait, with martyrdom misdated, is reproduced in Foley, "Records", VII (I) 174; his relics are the Mass corporal used by him and four other martyrs in the Tower (cf. Camm, English Martyrs, II, 563) and perhaps his autograph in the registers of Sant' Andrea.
PATRICK RYAN
---
Enjoying this content?
Please support our mission!
Donate